Josh Dibb of Animal Collective talks to Lydia Jenkin about a trying something different on their ninth album.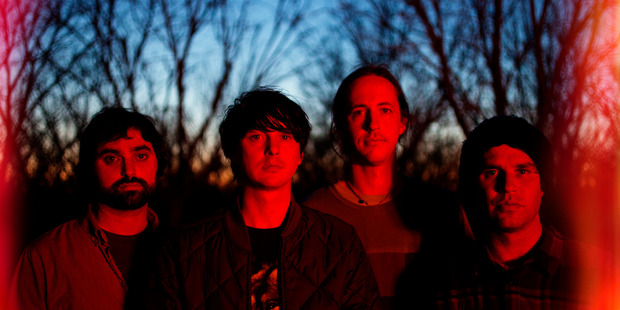 When they were last here, in December 2009 - touring off the back of their popular eighth album Merriweather Post Pavilion - Baltimore's Animal Collective proved they were indeed a band with wild inner creatures, flooding the Powerstation with their tribal, psychedelic, electro-rock sound.
Three years on, the gregarious yet prodigious four-piece have just released their ninth studio album, Centipede Hz - perhaps less immediately accessible, but just as joyous, complex, and intense.
As Josh Dibb describes it, this time they "took a left turn at weird town".
There have been a few differences in Centipede's creation, one being that Dibb, who was on a break during Merriweather, has been back in the fold recording, performing, songwriting, and even singing lead on one song for the first time (Wide Eyed).
This was also the first time the four had got together for an extended period of writing and recording under one roof.
With drummer Noah Lennox living in Portugal, and the rest of the band frequently spread across the States, the band have often worked up song ideas for recent albums individually before coming together for a couple of weeks to work them all out.
This time, they all converged on Dibb's mother's house back in Baltimore, and spent three months together, working eight hours a day, five or six days a week, jamming and writing.
"It was definitely an exciting and refreshing way to approach things. It was kind of like a club house in a way, for better or worse, just a bunch of guys sitting around making a lot of jokes and noise," Dibb explains down the phone.
"There was almost a garage band attitude that we wanted to feel, turning on a bunch of loud amps and Noah on the drum kit, and just going for it.
"We've all known each other since we were teenagers, so finding that really fun vibe and that energy really carried over into the songs."
Indeed, with Dibb bringing out a baritone guitar (a cross between a six string and a bass), and Lennox behind a full drum kit once more, on top of their keyboards and samplers full of effects, guitars, percussion, and vocals, Animal Collective had a heavy palette of sounds to focus on Centipede. But rather than overwhelming the ears, they've created a surprising level of vibrancy - even if the songs take a few listens to absorb.
"Coming out of this I was almost concerned, maybe not concerned, but I was thinking that the record went so much towards a sonic overload, and there were parts of it that maybe wouldn't come across, but I think the energy behind it when we wrote and recorded it makes it work."
One particular layer they did consciously reduce was the vocal harmony. Where Merriweather had almost Beach Boys-esque vocal layers, Centipede sees them mostly going for a single voice in each song.
"I think the other guys especially felt like that was something they had worked on so much, particularly on Merriweather, and something that people had come to associate with us, so they were more psyched to think about things in a new way. So we were focusing on single, soulful vocals this time, and that ended up really appealing to us all."
That's not to say the vocals are crystal clear or easily interpreted - there's still enough processing happening to make you want to look up the lyrics, in true Animal Collective fashion.
"I'm sure people will still listen to this record and go, 'hmm, I can't really hear what they're saying,"' Dibb laughs.
When you do suss them out, you'll find a lot of metaphorical musings from songwriter David Portner; one that stands out being the urgent, pleading message of Monkey Riches.
"It's one of the more environmental songs that we have, and it's sort of about dealing with the cons of being human in the modern age, having all these materialistic things that are a part of everyday life, and it's not about putting that down, but there's a flipside too, and that's all these really shitty consequences, and trying to figure out how to deal with that."
There's also New Town Burnout written by Lennox, which celebrates the joy of homelife after the fatigue of touring.
"It's actually him struggling between really loving playing music, loving being part of the band, but also being a homebody and loving being at home. It's really hard for him to be away from his kids, so I think the song is him remarking on that issue, trying to reconcile those things - being on the road, away from home, and trying to find that balance."
Fortunately, finding that balance seems to be working out fine for the Collective as they're embarking on another mammoth world tour which will happily bring them to Australia and New Zealand in January next year.
Might be time to invest in some glow-in-the-dark warpaint in preparation for what will surely be another dizzyingly explosive show.
Who: Animal Collective
What: New album Centipede Hz
Where and when: One show at the Powerstation in Auckland on Monday, January 14, 2013.
-TimeOut