Band of Horses' latest album comes warts and all, writes Chris Schulz.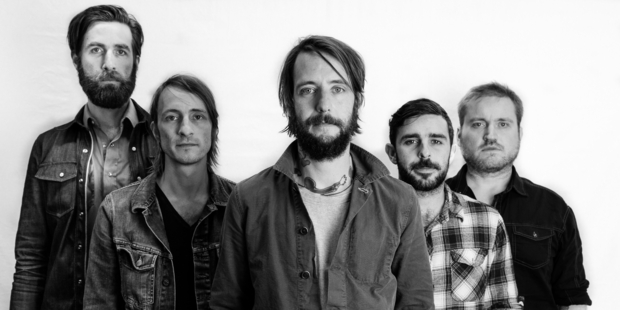 They're known for having some of the best facial fuzz in rock, but Band of Horses' Bill Reynolds has an admission to make: He's just shaved off his beard.
"I have no beard right now. I'm letting everybody down," laughs the bassist over the phone from his Californian home when asked what kind of shape the band's beards are in.
His excuse?
"It's summertime here ... It's hot."
But Reynolds promises the Seattle-based band's famed beards will be "in good shape" when they return to New Zealand this summer, their third visit after sold out gigs at the King's Arms in 2008 and The Powerstation in 2010.
They'll be playing two Big Day Out sideshows at their biggest NZ venues yet: The Wellington Town Hall on January 15 and the Auckland Town Hall on January 16.
Reynolds says New Zealand is "one of our favourite places to be" - but bushy beards won't be all Band of Horses will be bringing with them.
They have a new album out tomorrow called Mirage Rock, the quickfire follow-up to 2010's Infinite Arms - a record that saw the band morph from alt-rock pretenders to chart-bothering stars.
It's a progression likely to continue with Mirage Rock, an album which takes their mix of countrified ballads, emotionally-charged alt-rock and occasional bursts of guitar grunge and mixes in rough production, fast takes and "mistakes" to give it the feel of a live album.
It's a style that seems to suit them. With Ben Bridwell's heartfelt lyrics at the fore, they get environmental on the bass groove of Dumpster World, hit their stride on the lush lope of A Little Biblical and show their 70s side on Electric Music. Knock Knock even includes a Kings of Leon-style "wooh-ooh-ooo-ooo" chorus.
Reynolds tells TimeOut the album was made "really fast".
They recorded it on analogue and never spent more than two days on a song - unlike the self-funded Infinite Arms, which took so long Bridwell has said it very nearly bankrupted the band.
"It's definitely relaxed and a lot rawer and mostly live. It was a real fun record to make. We're really stoked about it. We didn't obsess over it," Reynolds said.
"Our (records) take quite a while because we're on tour so much.
"But it seems when you make a record all at once, you don't have that time to keep working on it. It's kind of like a documentation of where you're at right then."
That change in attitude came from Glyn Johns, the British producer/engineer who helmed some of rock's biggest records, including The Who's My Generation and The Rolling Stones' Exile on Main Street.
They were star-struck in the studio, admits Reynolds.
"He had so many awesome stories. He was full of them. Each of us had different records that he had done that we were curious about.
"During our lunch break we would pin him down and ask him about them - and he would remember."
Reynolds said John's style to leave mistakes in songs was hard to embrace, but he could now see the advantages.
"He doesn't really want you to fix stuff. He doesn't want you to do overdubs. He likes to get a live feel. He's not really concerned about mistakes at all.
"It's hard to know in the moment that you can do better, but I think it captures the essence of you in a way. When you listen to records that you love, you end up liking (the mistakes)."
It wouldn't be a Band of Horses record without an epic, soaring ballad. Everything All the Time had The Funeral, Cease to Begin had No One's Gonna Love You and Infinite Arms had Blue Beard.
Mirage Rock comes with two: The lighter-waving nursery rhyme blues of Slow Cruel Hands of Time, and string-laden album closer Heartbreak on the 101.
Reynolds can't decide which one he likes most - and he won't predict which will be a hit with fans.
"Heartbreak on the 101 is definitely a much slower song and with slow songs you don't have the confidence that people will like them.
"We play all the festivals, so having upbeat stuff kind of feels crucial."
"It's always the ones you never expect. It's so amazing, I don't understand that. You get all het up about one and it's something completely different."
Who: Band of Horses
What: New album Mirage Rock is released tomorrow.
Previous releases: Everything All the Time (2006), Cease to Begin (2007), Infinite Arms (2010).
On tour: Wellington Town Hall, January 15; Auckland Town Hall, January 16.
Listen: Album streaming at bandofhorses.com
-TimeOut