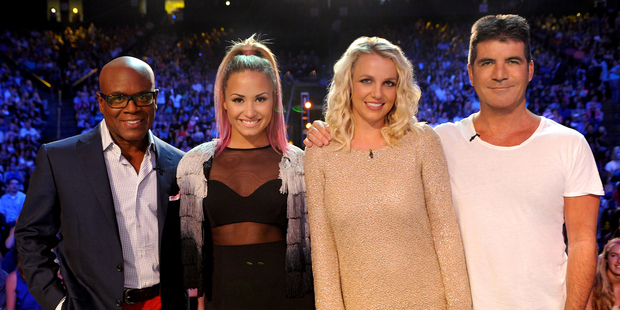 TV Picks of the week: The X Factor USA, The Voice Australia, The Voice
With New Zealand's Got Talent up and running, and two rival American talent shows also starting, there's a glut of star-maker reality shows on primetime.
But you can bet the presence of one woman will ensure The X Factor USA will be well watched - initially at least. Because although Britney Spears' star may have faded a little in recent years she still has crowd-pulling power.
She joins X Factor creator Simon Cowell, record producer L.A. Reid and fellow newbie (singer and actor) Demi Lovato on the judging panel when it starts tonight on TV3.
And then next week singing contest The Voice USA, with pop diva Christina Aguilera and Maroon 5's Adam Levine among the judges, begins its second season in New Zealand (taking over from The Voice Australia, with its last episode tomorrow night at 8.30pm).
Although the US version will start an hour earlier at 7.30pm next Friday night, meaning it will go head to head with the second night of The X Factor.
Over in the US it's this sort of time-slot clash that has Cowell fuming. He claimed on website TMZ that The Voice had scheduled an episode of the show at the same time in the US as the world premiere of the latest X Factor series out of spite.
"This is a cynical, cold-hearted, unprofessional way of doing business. The reason they've done this is they don't want people to see X Factor because they've heard how good the series is. They don't want their audience to see Britney Spears. They don't want their audience to see Demi Lovato."
Cowell rates his new judges highly, saying Spears remains one of the world's biggest stars "who knows how to spot the X Factor" in people. He believes that 20-year-old Lovato will relate to younger people among the audience.
The first few weeks of the show will see the judges on the road doing auditions. Once through to the final audition process, the four judges take on mentoring roles as the performers are split into categories of under-25 boys, under-25 girls, the over-25s, and groups.
Last year's winner, Melanie Amaro, who was mentored by Cowell, won a $5 million recording contract as first prize and will release her debut album later this year.
Over on the final of The Voice Australia, the star coaches - country singer Keith Urban, Aussie songster Delta Goodrem, English pop crooner Seal and American pop punk musician Joel Madden - will be priming their proteges for the final sing-off.
And it's 19-year-old Karise Eden from Team Seal, diva Sara De Bono for Team Joel, 40-year old Darren Percival from Team Keith, and Delta's 18-year-old Rachael Leahcar who will be battling it out for the $100,000 prize money and a record contract.
The X Factor USA
When: Thursday and Friday, 7:30pm
Where: TV3
What: The pop princess becomes a judge
The Voice Australia
When: Friday, 8.30pm
Where: TV2
What: The final sing-off
The Voice
When: Friday, September 21, 7.30pm
Where: TV2
What: It's blind audition time
Sci-fi pick: Doctor Who
The Daleks are in need of assistance in the opening episode of the new Doctor Who. And who better to help than the Doctor himself, not that the "predator of the Daleks", as he is known to his arch-rivals, is now a bosom buddy; after they kidnap the Doctor and his sidekicks, Amy and Rory, they send them to "the asylum", a prison planet where the Daleks house the maddest and baddest of their kind.
Once there, the intrepid trio's mission is to destroy the planet and find the nearest escape route to safety.
Don't want to give too much away, but there's a surprise appearance from someone who plays a big part later in the new series.
Also during this season the Doctor confronts a spaceship full of dinosaurs and they go on a Wild West adventure.
When: Thursday, 8.30pm
Where: Prime
What: The Daleks kidnap the Doctor
Musical pick: Glee
With half the Glee Club graduating at the end of season three, season four promises quite a shake-up. Rachel is off to New York, where she has to face a snarky dance teacher (Kate Hudson), with Kurt not far behind. Both will be parted from their true loves, with Finn at boot camp in Georgia and Blaine at high school at McKinley.
Mercedes has headed to LA to become a back-up singer, Puck has also headed west, and Santana is at Louisville on a cheerleading scholarship. That leaves Tina, Artie, Sam and Brit to keep New Directions on a high.
But new blood arrives: Puck's brother; a new Cheerio named Kitty; and Rachel-esque brunette Marley. Sue now has a new baby to look after. Will the wee girl mellow her or just make her more cranky?
When: Wednesday, 7.30pm
Where: Four
What: New Directions get some new blood
Comedy pick: Brand X with Russell Brand
Here to help prepare you for British mischief-maker Russell Brand's live show early next year is Brand X. One of the world's most ubiquitous celebrities, and known by many for his movie roles, Brand's first love has always been comedy, and now he has his own weekly TV show to discuss news, politics and celebrity culture in his typically fast-paced and off-beat style.
With a live studio audienceto spar with he'll be sifting through the week's events and news stories, and pulling them to pieces. In the first episode, Brand, who's known for his wide-ranging general knowledge and fascination with tabloid culture discusses everything from a meeting with the Dalai Lama, to notions of faith, religion and more. There will be occasional guests.
When: Tuesday, 9.45pm
Where: Comedy Central
What: Media dissection, Russell Brand style
Music pick: Mark Knopfler: A Life in Songs
Say the name Mark Knopfler and the first three things that spring to mind are Dire Straits, a guitar, and that sweatband he wears (or at least used to wear) around his head when he's playing. This documentary, playing on Prime to coincide with the release of his new double solo album, Privateering, goes behind the sweatband. It talks to the man about his roots and influences and how his songs have defined him.
It features footage spanning his career from a struggling musician playing in the pubs of Leeds in the 70s, to the success of Dire Straits in the 80s and their break up in 1995, and touring the world as a solo artist.
His best-loved songs include the sweepingly beautiful Romeo and Juliet and the megahits Money For Nothing and Walk of Life off Brother In Arms.
When: Monday, 9.35pm
Where: Prime
What: Not so Dire Straits
-TimeOut