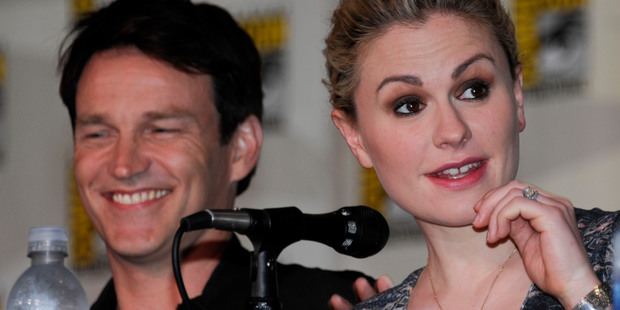 New Zealand actress Anna Paquin has given birth to healthy twins with her True Blood co-star and husband.
The Hollywood actress and Stephen Moyer are reportedly overjoyed at the birth of their babies.
The twins came a few weeks early, but are reportedly in good health.
A representative for the Hollywood couple said: "We can confirm Anna Paquin and Stephen Moyer recently welcomed their twins into the world. The babies were born a few weeks early, but are in good health and mum and dad are overjoyed," Bang! Showbiz reported.
The twins' gender and names have not yet been revealed.
In July it was confirmed Paquin and Moyer were expecting twins.
Moyer, 42, already has two children, Billy and Lilac, from a previous relationship.
Moyer previously told US Weekly that he loved his kids beyond anything.
"They're the best things ever, and having two more is just going to be even more crazy, but that's cool."
He said Paquin, 29, had been doing well with her pregnancy.
Paquin has said that she thought she would be a "nesty" mother and was looking forward to settling down.
"I have a side that's very nesty. And another that thinks, 'Let's lock up the house and go away for five months'."
The couple began dating in 2007 when they met on the True Blood set as on-screen lovers Sookie Stackhouse and vampire Bill Compton.
They got engaged in 2009, and married in Malibu a year later.
Green Party co-leader Russel Norman's partner is Paquin's sister, Katya, and the pair attended the wedding in 2010.
"It was really, really beautiful, actually. It was great," Norman said at the time of the wedding. "Somehow they've managed to stay real in the middle of this unreal world. It was quite sweet."
Norman would not comment today on the birth of Paquin's twins.
Paquin attended Wellington schools before moving to the US with her mother in 1995.
Paquin and Moyer now live in Los Angeles.
Timeline of Anna Paquin:
* 1982: Born in Winnipeg, Canada (moved to New Zealand aged four).
* 1993: Appeared as Flora McGrath in Jane Campion film The Piano.
* 1994: Won an Oscar for Best Supporting Actress for the role of Flora.
* 2000: Appeared in the original X-Men movie, and has appeared in two sequels.
* 2007: Received Golden Globe, Screen Actors' Guild and Emmy nominations for her role in the film Bury My Heart at Wounded Knee.
* 2008: Won a Golden Globe Award for Best Performance by an Actress in a Television Series - Drama for her role in True Blood.
* 2009: Announces her engagement to True Blood co-star Stephen Moyer.
* 2010: The couple marry in Malibu, California.
* 2012: Gave birth to twins.
- APNZ