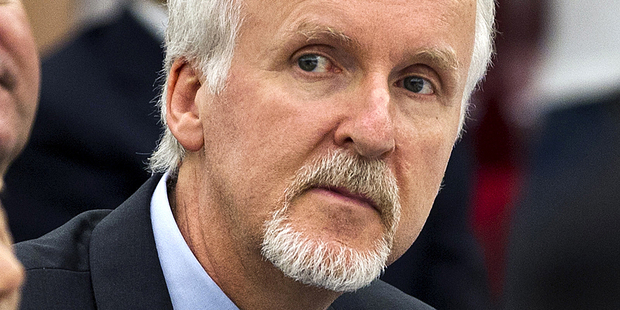 Wairarapa import James Cameron has taunted his neighbour and friend Sir Peter Jackson, suggesting The Hobbit director's role is less taxing.
"You know, Peter Jackson had it easy, he already had the books," Cameron told MTV News.
"He had the books. Now if I had a time machine I could go forward and watch the movies and then come back, but I don't!"
The Hollywood director, who is filming the second and third Avatar movies back-to-back, with much of the shooting in New Zealand, finds the process daunting "because I'm writing two scripts together as one big thing".
And like Jackson, who is stretching one book into three feature films, Cameron knows how to capitalise on a money-maker.
He suggests a fourth Avatar is possible too.
FORMER VP WANTS A HIRED GUN
When the 45th Vice-President Al Gore arrives in Auckland next month for a private speaking engagement he is expecting red-carpet trappings and a first-class security detail, including an armed policeman, which could contravene NZ laws.
Organisers behind the gala dinner won't divulge details, citing an iron-clad confidentiality contract, but The Diary understands Gore has requested that a protection officer with a sidearm be provided to accompany him 24 hours a day during his stay.
"We absolutely cannot discuss the security arrangements around Mr Gore's trip," said event director David Higgins. "I have no comment."
The multimillionaire businessman, who is estimated to have accrued a fortune of US$100 million ($123 million) since entering the private sector, will tour with an entourage understood to include experienced security personnel.
New Zealand law prevents any such foreign security agents from bringing firearms into the country without special dispensation.
"It is a highly unusual request," said a well-placed police insider. "I would gather Gore is still a protected person in the United States. But his people would not be able to carry guns here.
"Moreover, as a private individual, he cannot make requests to the New Zealand police for protection. Unless there is a security threat, or he is deemed at risk, I doubt the police would be able to just act on his request anyway."
Gore, a staunch climate-change advocate, is understood to be flying in on a commercial plane. Details of his accommodation are strictly confidential. The Diary understands Gore has requested two protection agents travel to Auckland for a full security sweep days ahead of the glittering gala dinner.
It is not clear whether the Secret Service is authorised to protect Gore since he ceased to be Vice-President, but former President Bill Clinton, who travelled here for a similar engagement, is always accompanied by Secret Service officers.
Noreen Hegarty, Auckland City police media manager, said the cops were not in the business of providing protection to visiting celebrities.
"It is highly unlikely that an armed officer would be provided to Mr Gore if he is making a private visit and is not a guest of the Government. He will have to make his own security arrangements."
Asked if those arrangements could involve his bodyguards bringing firearms into the country, Hegarty said it was possible, but only if they were declared for a "special purpose". However, protecting Gore making a keynote speech at a private gala dinner in South Auckland "would not constitute such a purpose", she said.
The black-tie dinner with Al Gore is nearly sold out. It will be held at the TelstraClear Events Centre in Manukau on October 12.
Girl power storms runway
Who doesn't love Bronwyn Turei? She plays plucky Cody Latimer in Go Girls and the voluptuous actress was all va-va-voom on the runway at the Phoenix Cosmetics Fashion Week show on Friday, exposing, er, more than a wry grin. We were impressed. Any woman who can rain on the parade of the pretty toothpicks littering the catwalk gets our approval.
So too, former soap star Kim Crossman, who oozed bouncy confidence, showing off aerobic dance moves in a skimpy leotard.
Aspiring telly star Jaime Ridge, who earlier had her own turn on the catwalk, sat front row with mum/sidekick Sally, apparently being filmed for their eponymous show which premieres tonight. But in a twist not even a scripted reality show could invent, ex-stepdad Adam Parore (who thwarted attempts by Sally to film their two young children on the show) sat nearby. He was transfixed by his fiancee Miller Rose, a part-time model, sashaying down the runway. Cue uber awkward family moment. We trust the cameras were rolling.
Kimbra's turn in hospital
Kimbra has revealed details about her new single, Come Into My Head.
The video was shot in June at Royal Melbourne Hospital with the songstress playing a patient and directed by Guy Franklin, with cinematographer Ed Goldner.
Kimbra, who is on tour in Europe, told The Diary it "was one of the most fun videos I've made".
The song will launch in New Zealand next week.