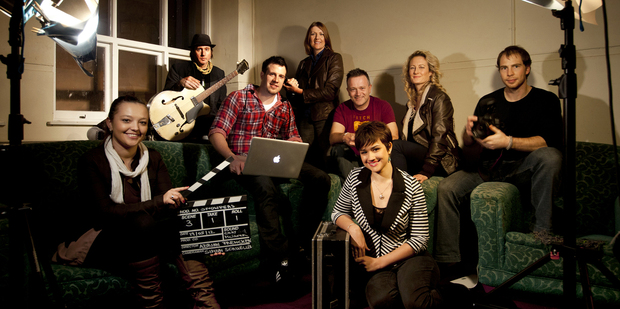 Every year, thousands of would-be Kiwi filmmakers sign up to write, shoot and edit a short film in 48 hours. Some swear "never again"; others return year after year for the adrenalin buzz of the V48 Hours filmmaking competition. Here is one survivor's story.
We know New Zealanders can make world-class films - Peter Jackson, Jane Campion and Taika Waititi have proved that. And the can-do attitude in our genes drives scores of Kiwis who figure there's no reason why they can't make one, too.
Each year, thousands of budding filmmakers cajole mates and family members into competing in the V48 Hours competition. The challenge is straightforward - to write, shoot and edit a short film in 48 hours. Entrants are assigned a genre and specific elements - including a character name and a line of dialogue - that must be included in the finished film.
In a moment of madness, I convince myself that I am up to the task of making a weekend masterpiece, and team up with budding director Adrian Frencken to form Team Snowpeas.
We beg, blackmail and borrow a crew, roping in a sound guy, an editor, costume designer, makeup artist and several actors on stand-by. We are ready for anything ... though we are hoping when the genres are assigned that we don't end up with the dreaded musical.
The competition is the wild child of Ant Timpson, producer and dedicated, even fanatical, promoter of New Zealand film. He launched the 48 Hours 10 years ago, as an experiment, thinking maybe 10 teams would show up: 44 teams fronted up. This year 752 cobbled-together crews, from the five main centres and all points in between, had a crack at making a movie.
On a Friday night, a representative of each team goes to the contest HQ, the Aotea Centre to collect the genre and compulsory elements. We send Adrian and after spending the afternoon planning - the greatest eight-minute action thriller with kung fu fighters, swords and elaborate costumes. A text arrives from Adrian: "We got musical."
"Ha ha, yeah right, good joke."
"No seriously, we got musical."
"We're screwed!"
The compulsory elements are a character called Nicky Brick, who is unlucky; the line "I did it"'; a leaf; and a slow-motion scene.
The fact that none of us can sing or dance presents a tiny problem but, undaunted, we toss around ideas and work on a story for three hours. That is when we realise we have just written Little Miss Sunshine - the musical version.
We start again. By midnight, a chance suggestion has turned into a story - about the unlucky Nicky Brick who is addicted to dancing. We are about to make a short film called Dance-aholics.
It might not meet the exact definition of a dance film, but it's close enough. We split up the roles among the crew and the actors. I end up as the therapist. Why? Because I am the oldest and I own a suit.
My other role is producer, which sounds fancy but in reality means chief problem-solver, as well as caterer, driver and extra. It also means that I tap my watch and say things like, "That one shot has taken an hour and a half. We need to move, people!"
We leave Adrian toiling on the script, head home to grab some sleep and meet at 7am the next morning at our first location, a Takapuna bar. We are allowed to use it until 10am. Sweet. Plenty of time.
By 9am the staff have arrived to set up the bar and I'm frantically watch-tapping. We still haven't finished our first shot and the bar staff are clinking cutlery and glasses. Now every time we do a shot, we have to ask them to stand still and be quiet. Not ideal.
We head for the next location, a park, thankful we have only three locations planned. Film gear is heavy so it's like moving house several times in one day. Adrian goes fossicking for our compulsory leaf prop, something I can't imagine movie mogul James Cameron doing.
By 9pm we've finished shooting - or as we say in the movie business, "it's a wrap". Adrian and Simon Schueller, our director of photography, head off for a night's editing. Our large crew means we can divide tasks and get some sleep. Smaller crews don't sleep.
By Sunday morning, the film is mostly edited. A soundtrack is under way, thanks to musician Darryn Harkness. But there are dozens of details to attend to, and the clock is ticking. The deadline is non-negotiable. As the organisers remind the competitors, "It's called V48Hours, not V48Hours and 5 seconds". And we still have problems with the soundtrack and the exposure.
Often it's computers that cause major delays, and ours is no exception. It crashes every time we modify the sound. Reboot, make a change, reboot, and make a change. It's agonisingly slow and Simon, who hasn't slept, has to walk away so he doesn't hurl the computer out the window. Our smugness has disappeared and we are starting to sweat.
By 5pm, the sound is finally okay but the exposure isn't right. We decide we can live with the exposure, time to render it to the final format.
At 5:15pm, we head to V48 headquarters and hand in our masterpiece - 45 minutes early. A crowd of exhausted filmmakers cheer us as we arrive. We are done!
By 5:40pm, 40 per cent of teams entered haven't showed. But somehow most make it. At 6pm, the deadline, the last team sprints in to big cheers from the crowd. The V48 Hours is over for another year.
Crunching the numbers
In the 10 years it's been running, the V48 Hours festival has spawned 4062 short films. This year's competition attracted 752 teams (more than 9000 participants including casts, crews and support people). School teams numbered 172, the youngest entrant was 9 and one team comprised octogenarians. The productions chewed through about $1 million and participants averaged eight hours of sleep in the 48 hours.
The winners were the Noise and Pictures team with their alternative zombie movie Brains?. They get $10,000 from the NZ Film Commission; $6000 from Wingnut Films; $5000 worth of gear rental from Rubber Monkey; $10,000 services from Park Road Post; $15,000 post-production time at Envy Studios - and a year's supply of V to get them through the next project.
* Dance-aholics was voted Audience Favourite at its heat but wasn't selected for the final. You can view it and the other V48 Hours shorts here.
* Former Herald on Sunday journalist Adrienne Kohler is a business development manager and an aspiring indie film producer (unpaid). She can count backwards from 100 in Japanese and is addicted to twitter. @adikohler