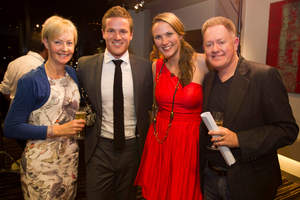 The new owners of the winning home on TV3's The Block say they will use the formerly dilapidated Takapuna do-up as an office.
Auckland couple Lisa and Stewart Hampton paid $961,000 - $157,000 above valuation - for 78 Anzac St in a televised auction last night.
The property was renovated by brother-and-sister team Ben Crawford, 31, and Libby, 29, from Auckland and Christchurch respectively, who won the TV3 show because their house made the biggest profit. The 120 sq m home had a reserve of $804,000.
The Hamptons said they would move their company, Accounting 4 Rentals, from nearby Beach Rd to the three-bedroom, two-bathroom brick-and-tile house.
When asked what attracted them to the property, Mrs Hampton said: "The location on the busy street, its high profile, and we also love their style the most. It's just like what we'd do ourselves. It was the only house we liked."
As well as bragging rights, the Crawfords won the profit made on the property and an $80,000 cash prize.
Ben Crawford said he was feeling "a bit out of body" following the win.
"Financially it's bloody good. It's been such a crazy journey over the past 10 weeks. To win is the ultimate award."
The siblings revealed they had resigned from their jobs last week - Libby as a senior designer at a Christchurch advertising agency, and Ben as the marketing manager for youth at Tourism New Zealand - to start their own graphic design, marketing and branding business, because people had identified with the brand they had built up during the show.
It will be called Libby and Ben.
Their property and the three neighbouring houses on the reality series had the same valuations of $750,000 before renovations started.
Sarah Adams, 20, of Hamilton and Richard Boobyer, 24, made $64,000 on their property - the only weatherboard home on the series. It had a reserve of $806,000 but sold for $870,000.
New Plymouth couple Ginny Death, 22, and Rhys Wineera, 23 made only $11,000. They had a reserve of $794,000 and sold their home for $805,000.
Engaged Wellington couple Rachel Rasch, 35, and Tyson Hill, 36, reached their reserve of $798,000, but did not profit from the sale.