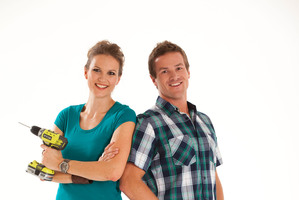 The first Block house has sold for close to $1 million.
Sister and brother Libby and Ben's property sold for $961,000 at a live auction in Auckland, netting the couple a profit of $157,000.
In a fiercely competitive auction room, bidders battled it out for the home widely considered "the best house on the block".
The homes described by the auctioneer as sunny, open plan and with incredible views, it quickly surpassed the reserve of $804,000.
Hundreds of people including the eight contestants of the popular TV3 show have gathered at central Auckland's Rendezvous Hotel to watch their renovated properties go under the hammer.
Chosen from more 1000 applicants, teams Sarah and Richard, Ginny and Rhys, Libby and Ben and Rachel and Tyson were selected to spend nine weeks renovating houses on the same street in the North Shore for the reality show.
At tonight's televised live auction of the four properties, the teams will keep every dollar they make above the reserve, with the winning couple walking away with an additional $80,000.
Brother and sister Ben and Libby's house, number 78 Anzac St, will go on the market first.
Sarah and Richard will be second, followed by Ginny and Rhys and Rachel and Tyson.
"It was a bit of a sleepless night but feeling really good right now", said Ben.
In the auction room, the contestants admitted to some nerves before their big moments but were looking forward to seeing how much their houses would sell for.
"Bring it on", said an excited Ginny.
The initially run-down properties in Takapuna have been transformed by the contestants and gained huge public interest in the process.
The reality show followed the teams' room-by-room makeovers under extreme pressure and on tight budgets.
The four houses have a capital value of $750,000.
At open homes, more than 15,000 people turned out to catch a peek of the fully renovated and furnished properties and meet the contestants.
Marketed by Bayleys, any houses that do not reach reserve tonight will stay on the market for a month and the team can still share any profits from its sale.
Each house has a different, undisclosed reserve, which takes into account the price paid for it, cost of renovation and sales in the area.
Rhys and Ginny already had plans for their profits - to go through the process all over again by putting it towards a deposit on another do-up property.