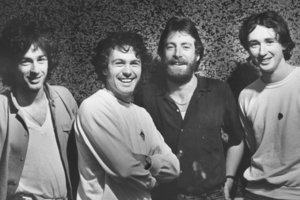 A special concert celebrating former Auckland venue the Gluepot will see pub rock stalwarts Street Talk and Citizen Band reunite for a trip down memory lane.
The Gluepot Reunion Concert will be headlined by Dragon and Hello Sailor, who peformed at the Ponsonby venue regularly during its late 70s and 80s heyday. They will be joined by Citizen Band and Street Talk who are getting back together especially for the show on November 3 at Auckland's Powerstation.
It will be the finale to Dragon's nationwide 40th Anniversary Tour with Hello Sailor.
Also on the bill are the Gluepot Supergroup, an all-star line up of Kiwi singers and musicians with Dennis Ryan (drums), Neil Edwards (bass), Grant Ryan (guitar), Peter Wood (keyboards) and Walter Bianco (saxophone) with guest singers Rick Bryant, Debbie Harwood, Hammond Gamble, Dave McCartney, Mahia Blackmore and Truda Chadwick.
There were many versions of the Hammond Gamble-led Street Talk, but the one playing on the night will be the three-piece of Gamble, drummer Brent Eccles and bass player Andy McDonald. The Citizen Band reunion lineup will be include original members Geoff and Mike Chunn (formerly of Split Enz), Eccles and guitarist Greg Clark. Tickets go on sale Monday, September 17, through Ticketmaster.
Festival for Anniversary Day
The Laneway Festival will once again be held on Auckland Anniversary Day next year - and it will be the biggest yet.
The official announcement about changes to the day-long indie music festival will be made tomorrow.
However, TimeOut understands the site at Silo Park will be expanded and there will be a fourth stage area - possibly inside one of the silos. Perhaps that could be the Echo Chamber stage?
The line-up for the January 28 event will be announced later this month.
Meanwhile, a short wishlist of bands we'd like to see playing there? Former Husker Du and Sugar frontman Bob Mould has just released a return-to-form rock album, so he would be a good start.
Cat Power, who also has a new album out, has confirmed a tour Downunder early next year, so she is a possibility too.
And on the local front there is a strong rumour that a band who have just released a long-awaited new album might also be added to the bill. But we can't say who.
For more info about next year's festival, go to lanewayfestival.co.nz.
Elsewhere, Kiwi rockers Evermore are heading out on tour to support their new album Follow the Sun. The Hume brothers will perform at Juice Bar in Auckalnd on October 26, and Bodega in Wellington on October 27.
Tickets are available here from September 10.
-TimeOut