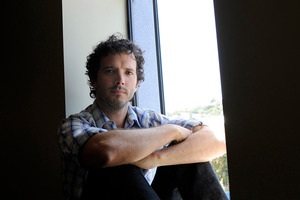 Bret McKenzie may have been celebrating the number one success of Flight of the Conchords' charity single Feel Inside (And Stuff Like That) but he admits to having doubts the song would work during its child-inspired creation and all-star recording.
The track has sold more than a platinum-status 15,000 digital copies in its first week, after its launch on the Red Nose Day: Comedy for Cure Kids TV fundraiser. It's likely to be the biggest New Zealand single in years.
McKenzie and FOTC partner Jemaine Clement based the song's nutty lyrics on interviews with primary school children they did while on their record-breaking homecoming tour in June.
"We talked to kids while we were on tour and we were kind of juggling a busy tour schedule and we would pop into these schools during the day and some of these kids were just terrified and couldn't talk and just started crying," McKenzie told TimeOut.
"Every so often you would get a kid who was just a wildcard - perfect. We needed kids who could let their imagination flow."
"We started getting the ones like the girl talking about mining for oil and crystals and gold. Every so often you would be, 'Perfect - this is going to be great'.
"But I wasn't sure it was going to work until we were halfway through recording. I didn't really know."
McKenzie said despite his worries, the recording session - featuring a vocal tag-team of local pop, rock and hip-hop stars - was memorable.
"It was great. It was particularly hilarious watching both Savage and Dave Dobbyn sing about bubbles."
McKenzie is soon to be seen in local big-screen black comedy Two Little Boys, which he shot on a break from writing his Oscar-winning song for The Muppets.
From a script based on a book by Duncan Sarkies - who penned some Flight of the Conchords episodes - and directed by Sarkies' co-writer and brother Robert, the film stars McKenzie as "Nige", a man who accidentally kills a Scandinavian back-packer and turns to his mate Deano for help.
"I read the script in a Harley Davidson themed hotel in Milwaukee when I was on tour with Conchords. I was laughing out loud. I had read a bunch of really bad Hollywood rom-com type films and a bunch of Hollywood comedies that I was going to audition for.
"But it was just such a contrast to read something I genuinely found funny, that I was just really into being involved."
Two Little Boys opens at local cinemas on September 20.
Check out the extended video for Feel Inside (And Stuff Like That):
-TimeOut