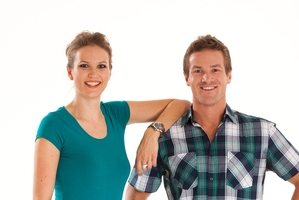 The Block NZ is TV3's highest rating show this year and it surely must have set some sort of open home records last weekend when thousands lined up for a nosey at the contestants handiwork.
And next week the four couples - Ginny and Rhys, Rachel and Tyson, Ben and Libby, and Sarah and Richard - will be hoping the show's popularity will help fetch them a good result when their houses go under the hammer at auction.
On Wednesday, in the penultimate episode, the contestants backyard renovation is revealed and there are a few final challenges to do before they get on to marketing their houses and preparing for the open homes.
The following night the two-hour finale features the live auction of the houses. Each team will get to keep any profit they make at the auction, and those with the biggest gain also pocket a further $80,000.
Spokesperson Rachel Lorimer says TV3 is delighted with the success of the multimillion-dollar reality show.
More than a million people tuned in during its first week at the begining of July.
Since then the average viewership has been around 400,000 in the 5+ demographic and it consistently wins its timeslot in the key 25-54 and 18-49 age groups.
"What we also saw last Saturday at the first of the public open homes was that it's a great family programme, which people of all ages enjoy watching," says Lorimer.
And if you missed out on having a stickybeak at the houses last weekend, the second (and final) open home is on Saturday between 10am-2pm. Just remember to take your shoes off at the door.
-TimeOut