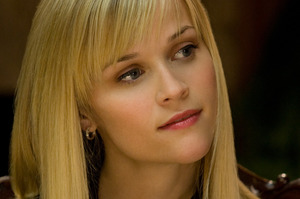 Reese Witherspoon is being kept in hospital to try and avoid going into early labour.
The Oscar-winning actress - who is expecting her first child with second husband Jim Toth - was rushed to a Los Angeles medical facility earlier this week and now doctors want her to stay there as they need to keep a close eye on her.
A source close to Witherspoon - who is due next month and also has two children, Ava, 12, and eight-year-old Deacon, with ex-husband Ryan Phillippe - said: "Doctors are keen on keeping her from going into early labour so the baby's development will go to full term. Reese's husband Jim hasn't left her side and he doesn't plan to.
"Unless she goes into labour, Reese will remain in the hospital under the watchful eye of the doctors."
Insiders say Witherspoon, 36, is remaining very calm and is having to reassure Jim.
The source continued to website RadarOnline: "Jim is really worried about the baby. He's a first-time father so this is all really new to him and he just wants everything to be okay.
"He's a bundle of nerves. Meanwhile, this will be Reese's third child, so she's been through this before and she's trying to keep him calm."
- Bang! Showbiz