Twisted new horror show American Horror Story is landing on New Zealand TV screens next week. Are you ready?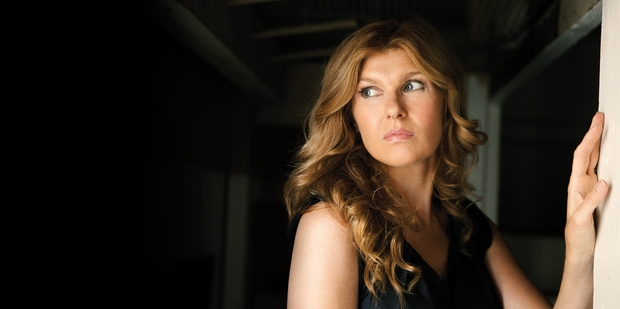 American Horror Story is like a creepy, "who's hiding in the basement and why are our neighbours so freaky" type of horror show.
But the thing that makes the new TV series unique is its combination of twisted characters, intriguing and confronting story lines and, most importantly, an originality you don't often get in the horror genre.
From the creators of Glee and Nip/Tuck, it has already been renewed for a second series in the United States and follows the emotional trials of the Harmon family.
They move from Boston to Los Angeles for a badly needed change of scene after wife Vivien (Connie Britton) has a miscarriage and then finds her psychiatrist husband Ben (Dylan McDermott, best known for his role in legal drama The Practice) in bed with one of his young students.
Add to the mix their self-harming daughter Violet (Taissa Farmiga) and it makes for a fraught family dynamic.
But then, you guessed it, they also move into a haunted house where people have been killed, maimed and tortured in its long, sinister history.
It sounds pretty bog-standard for a horror, but it's the cast of deeply strange characters which is key to the show.
There's Moira the maid who appears as an old woman to women and a saucy young vixen to men (she drives Ben particularly wild), nosy neighbour Constance (played by Jessica Lange) who is serene one minute and menacing the next, and Larry, a brutally burned man who warns Ben that if they don't move out of the house they will all die.
And who is the gimp suit-wearing bondage man who has a sexual liaison with Vivien?
Creator Ryan Murphy said he wanted American Horror Story to deal with real issues. "It is a house of horrors. [But] the show examines other horrors in society, not just the horrors that happen in this house."
While the show is not gory, it's bloody unnerving - like the frenzied scene, complete with strobing lights and a barrage of terrifying images, in which young psychopath Tate (played with demented ease by up-and-coming actor Evan Peters) is dishing out punishment on a bully.
Also look out for the ghosts of dead twins Bryan and Troy - they alone are enough to give you the creeps.
When: Monday, 9.30pm
Where: Four
What: More than just a house of horrors
NOTHING TRIVIAL
When we left the five love-lorn members of quiz team Sex On A Stick at the end of season one, Emma and Brian had finally decided to change their relationship status from flatmates to partners; Michelle had a bit of a nervous breakdown; Mac's ex Jo started threatening a custody battle; and Catherine had decided to put her own feelings for Mac aside and try to make things work with Jules.
As season two begins they all face new questions - can Brian leave his life as a ladies' man behind, or will his past overwhelm Emma? How well does Catherine really know Jules, and can she put up with his endless surprises? How will Mac cope with singledom when he can't have the one woman he really cares about? And can Michelle overcome her bitterness and loneliness, and truly start over?
When: Sunday, 8.30pm
Where: TV One
What: Cosy local rom-com returns
CANCERMAN: THE MILAN BRYCH AFFAIR
This docudrama recounts the case of medical conman Milan Brych, which gripped New Zealand in the early 1970s. Arriving in 1968, the Czech refugee had claimed he had lost his medical degrees while escape his Communist homeland and was able to register as a physician and became a resident oncologist at Auckland Hospital.
There, his unorthodox supposedly advanced treatments - which won support from many of those he treated - eventually got him fired, especially after the investigative efforts of Professor (later Sir) John Scott who thought there was something about Brych and his methods that didn't add up.
When the show's funding was announced by New Zealand On Air it was originally subtitled The Sir John Scott Story. Unfortunately, Brych is the name that history remembers.
When: Sunday, 9.30pm
Where: One
What: Quack study
HELL ON WHEELS
Having established the wild and wayward world of the 1856 Transcontinental Railroad's western expansion in season one, Hell On Wheels, is back to follow anti-hero Cullen Bohannon (Aston Mount), and a multitude of other characters in the lawless, roving tent city.
Bohannon is a former Confederate soldier seeking to avenge his wife's rape and murder by Union soldiers. He thought he'd found one of the men responsible at the end of last season but in seeking vengeance he made a fatal mistake, which meant he had to flee town, leaving behind the job, the woman and the life he wanted.
Season two begins with Bohannon joining a bunch of train robbers planning to make enough money to escape to Mexico. It's not long before plans are going awry.
When: Sunday, 8.30pm
Where: SoHo
What: Seeking vengeance on the western line
AUCKLAND DAZE
It sounds like the beginning of a joke - a model, a stuntman, a dwarf entertainer and a stand-up comedian walk into a bar ... all four chasing fame in Auckland's ridiculously small entertainment industry - but it's actually the latest addition to TVNZ's local comedy line-up.
Having gained popularity when it screened online earlier this year, Auckland Daze is now bringing its weird and wacky brand of faux-reality to TV. Starring Millen Baird as the model, Jennifer Ward-Lealand as his mother, Fasi Amosa as the stand-up, Jimmy James Fletcher as the entertainer, Natalie Medlock as a girlfriend and Glen Levy as the stuntman, there's also an abundance of guest appearances by other local actors including Craig Parker, Anna Hutchison, Johnny Barker, Brendhan Lovegrove and Anna Julienne.
When: Thursday, 10.05pm
Where: TV One
What: Chasing fame in Auckland