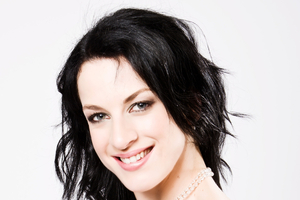 In 2005, Madeleine Pierard capped off her Lexus Song Quest victory with an effervescent Una poco voce fa and, just last month, she triumphed in the Royal Opera House production of Rossini's Il Viaggio a Reims.
For Peter Reed of the Guardian, the New Zealand soprano "conveyed the Countess of Folleville's fashion fixation with a nice line in irony and strong technical address", and Pierard herself singles the role out as one of the highlights of her last few years in London.
"It was a great showcase because that's my special repertoire," she explains. "Even if the opera itself is just a bel canto Canterbury Tales, a bit of fun really, and a chance for the soloists to show off."
In fact, Pierard looks to the likes of Richard Strauss for music that is "more representative of my own musical identity".
She is very happy to be singing some early Lieder by Alban Berg in her Hamilton and Auckland recitals next week, accompanied by Terence Dennis.
These seven songs have none of the expressionist angst associated with Berg's operas, Wozzeck and Lulu.
"I hear Debussy in them," she says. "A song like Die Nachtigall is very Brahmsian and incredibly programmatic."
She fell in love with the Berg when she studied it at London's Royal College of Music, subjecting the music to a full and rigorous analysis.
Pierard is more than just a pretty voice. Not only is she a good enough pianist to tackle Brahms sonatas with her violinist partner, she also has a background in musicology and composition from Victoria University.
"I do tend to analyse while I'm singing," she says. "Sometimes I have to make myself stop thinking so much. I'm not suggesting I'm any sort of brainiac - it's just the perfectionist in me."
A highlight of the upcoming recital is the new Ross Harris song-cycle, Songs for Beatrice. This cements a deep connection between the singer and composer most recently heard in the new Naxos recording of Harris' Symphony No 2.
"Ross has a very natural way of writing for the voice," she explains. "He prefers a straightforward, folk-like way of singing and, as Vincent O'Sullivan's words are absolutely fundamental, he doesn't want any vague vowels."
Harris' five songs are a tribute to Beatrice Tinsley (1941-81), an English woman who grew up in New Zealand and ended up as Professor of Astronomy at the ivy league university of Yale.
"What comes through in the poems, is that Beatrice had a constant struggle with what was more real to her - her life as a mother and a human being, or her life as an astronomer," says Pierard. "In one poem, Vincent talks about her romance with the stars, and Beatrice dedicated her entire life to discovery, perhaps at the expense of her family.
"I was astounded to find out that she was unable to take up one post because it was against the university regulations that husband and wife lecture in the same institution," she adds. "I've been fortunate to grow up in an era when there aren't such immense issues of equality."
The soprano is not the only Pierard taking the Town Hall stage on Thursday, as she will be joined by mezzo sister Anna, for duets by Schumann, Mozart and Bellini.
"It's a dream," Pierard reflects. "We had our first rehearsal and, after a few moments, you couldn't tell which one of us was singing. Here and there in the Schumann we looked at each other and were just beaming. It was such an amazing feeling to sing with a voice so much like your own."
Where and when: Gallagher Academy of Performing Arts, Hamilton, Wednesday at 8pm; Auckland Town Hall, Thursday at 8pm