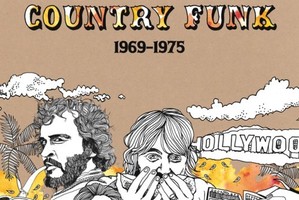 The uninitiated (myself included) could well ask, just as the booklet that comes with this album does, "what in the hell is country funk?" As the notes go on to point out, there is no simple explanation with descriptions like "the elation of gospel with the sexual thrust of the blues ... and slow jammin' and booty shakin"'.
If that sounds a little confused - contradictory even - then never fear, because it starts becoming clear what country funk is right from first track, L.A. Memphis Tyler Texas by the late Louisiana swamp rock boogie maestro, Dale Hawkins. Basically, country funk is, well, funky, sometimes wild and loose, country music.
L.A Memphis Tyler Texas is a jumpy, brassy and mean instrumental mantra (with Hawkins talkin' in his bluesy, master of ceremonies-type twang over the top) that sets the standard for this collection of tunes taken from a brief period between 1969 and 1975.
It may not be that cutting-edge for aficionados, but for those less familiar with this sort of music it will be a revelation, thanks to tracks like Link Wray's raw Fire and Brimstone and the cool cosmic blues slop of Tony Joe White's Stud Spider.
Then there's the smouldering Light Blue by Bob Darin (aka New York singer and songwriter Bobby Darin), Johnny Adams' Georgia Morning Dew and Mac Davis' excellent Lucas Was A Redneck, which all have that sort of subtle but staunch playing that injects a song with an understated power and beauty.
And though there are hints of straight-up funk, it ain't the rump-shaking and knee-weakening variety. Though tracks like Cherokee's Funky Business and Johnny Jenkins' I Walk On Gilded Splinters could just get your place hopping and mooching like a hoe-down on James Brown's porch.
Stars: 4/5
Country Funk 1969-1975 (Light In the Attic/Southbound)