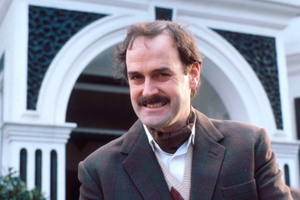 With three failed marriages behind him the last one forcing him to hand over more than £12million of his fortune another trip down the aisle might have seemed the furthest thing from his mind.
But it appears John Cleese, who has confessed he is incapable of choosing the right person, still yearns for a fairytale ending.
The 72-year-old has married girlfriend Jennifer Wade, 31 years his junior, on the Caribbean island of Mustique.
He hailed his new bride as 'an extraordinary one-off' and admitted he 'fought back tears' as they exchanged vows before a Methodist minister in a private villa.
He told Hello! magazine: 'I knew from the moment I met her that this could be something very serious.'
It is only four years since his acrimonious divorce from third wife Alyce Faye Eichelberger, which he claimed cost him more than half his fortune. But he says he was never against the notion of marriage despite the bitterness of that split.
He said: 'I never felt there was anything wrong with the institution of marriage the only thing wrong was my ability to choose the right person. I couldn't imagine being with anyone other than Jenny now. And with my record, that's a pretty remarkable thing to say.'
The new Mrs Cleese said the age gap 'never bothers' the couple, adding: 'We're kindred spirits. When people see us together, they immediately get it.'
The Monty Python star has repeatedly said he is 'happier than ever' since he and jewellery designer Miss Wade were introduced by mutual friends in 2009. They have a flat together in her home city of Bath, Somerset.
She has also been married before. Her first wedding to Old Harrovian businessman Richard Norris took place in 2005 but the couple split after four years.
Cleese divorced American psychotherapist Miss Eichelberger in 2008 after 16 years of marriage. The settlement left her with £12.5million in finance and assets, including £600,000 a year for seven years, an apartment in New York, and a £2million mews house in Holland Park, West London.
Cleese has remained friends with his first wife, Connie Booth, who co-wrote and starred in Fawlty Towers with him and with whom he has a daughter, Cynthia, 41. He is also close to his second wife, US actress Barbara Trentham, with whom he has a daughter, Camilla, 28.
The terms of his divorce from Miss Booth were not made public, but he agreed a £2.5million settlement with Miss Trentham when they split in 1990.
- Daily Mail