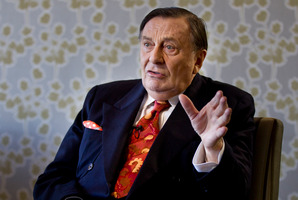 Fans who booked months in advance to see Australian comedian Barry Humphries arrived at their seats to find they had been sold twice.
Humphries, the creator and manager of Melbourne housewife Dame Edna Everage, opened his farewell Eat, Pray, Laugh! show at the Civic on Saturday night.
But a ticketing mix-up saw close to 70 people arrive to find other people in their seats.
Some of the group missed the opening of the performance after being taken to empty seats right at the back of the theatre.
Ian Page, a doctor from Whangarei, paid $200 for two tickets in early April and travelled to Auckland for the show.
He said the error was "irritating, to say the least" and he would like a refund.
"In the end we got a block of four rows right up in the gods. But by booking early you want to get the seats you want, which were down in the stalls.
"You can imagine with a show like Barry Humphries, while you might not want to be in the front row and get sprayed if he talks to you, it's nicer to be able to see the mannerisms and face a bit more clearly."
Dr Page said he presumed the ticketing problem was the reason for the show starting late, with Humphries apologising for a "wardrobe malfunction".
He said it was important a venue such as the Civic had reliable ticketing as people travelled from around New Zealand to see shows there.
"It was a great show. [Humphries] was brilliant. It was the irritation of not getting what you paid for."
Robbie Macrae, director of The Edge, said there was a ticketing issue with 69 of 2200 seats.
"We are undertaking a full investigation of the situation and don't feel it's prudent to comment in depth at this stage. But we can confirm that we have made a commitment to contact all affected patrons by 5pm on Monday."
The remaining dates for Eat, Pray, Laugh! are Wednesday, Thursday, Friday and Saturday, at 8pm.