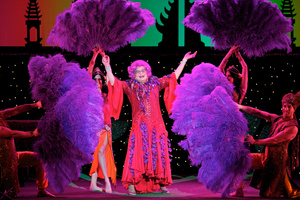 Brilliant character comedian Barry Humphries brought down the curtain on his best-known alter egos at Auckland's Civic Theatre last night.
The two-and-a-half-hour-plus Eat Pray Laugh show's first half kicked off with lewd, crude cultural attache Sir Les Patterson, whose spit-flecked cooking segment had the capacity crowd heaving with helpless hilarity.
He was followed by Gerard, a priest whose paedophile predilections have earned him an electronic ankle bracelet, and suburban spectre Sandy Stone's wistful, reflective humour led into the interval.
The second half was all Dame Edna Everage. Humphries has been playing the Melbourne housewife megastar (recently upgraded to internet age "gigastar") for more than half a century and the 78-year-old brought all that experience to bear in a performance that was a powerful argument for extending the retirement age.
Whether interacting with audience members, who frequently responded like possums caught in headlights, or belting out the occasional song and dance number, Edna was every inch the icon she's always claimed to be.
There really is nothing like a dame. Alas, we'll not see her, or Humphries', like again.
Remaining performances are today at 1pm, and Wednesday, Thursday, Friday, and Saturday, at 8pm.