Former Pluto bandmates are hitting the road on the back of their second album release.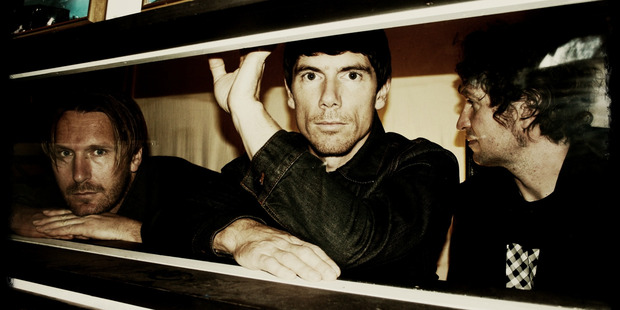 The ramshackle, homely space known as "the oven" at The Lab recording studios in Mt Eden, is the home of Auckland band Nightchoir, where at a desk sits cheerful frontman Mike Hall, planning for the release of their second album See The First Star.
The three-piece, including Hall's ex-Pluto bandmates, keyboardist Matthias Jordan and drummer Mike Franklin-Browne, have all had individual musical projects in the past few years. But on First Star, all contributed to the songwriting equally right from the start.
It's meant a more expansive sound, as well as increased vocal contributions from Jordan. "There was a bit of an effort this time to indulge in some harmonies that weren't just backing vocals, but parts that were sitting together, and some songs where Matthias takes the lead as well. We're suckers for melody, so we were trying to write hooks that we enjoy singing too."
Though Hall says they tend to have fairly traditional influences - many 60s pop bands included - they're also greatly inspired by the local music scene.
"When you go and see Don McGlashan play, and you see him reaching inside and grabbing hold of something, exorcising something from his soul, that's probably more influential in some ways, than a Rolling Stones song."
It's quite a different set up-to their former band Pluto, in which Hall played bass. The 12 years the trio spent as part of that band have left a mark. Pluto were actually still writing and recording songs together when the trio released the first Nightchoir album in 2010.
But frontman Milan Borich wasn't happy with Hall, Jordan and Franklin-Browne working on a separate project, and abruptly told everyone that Pluto was done. "It was a real shame. We used to get together every week, hang out with each other as mates, and make music, and we had these great songs.
"I still think that some of that new stuff we had was the best material we'd ever written. And the way that it ended was really messy and really stink, because it wasn't done in a way that friends would split a band, and there was no discussion.
"In retrospect maybe I could've done things differently with the way Nightchoir panned out, but it really wasn't getting in the way. So I'm still disappointed those songs never came out, because there are some killers in there, and I think 13 of them were probably close to finished."
In the interim the trio have all been able to play with other artists - the Pajama Club, Gin Wigmore, Steve Abel, Head Like A Hole Anna Coddington, Julia Deans, and Stereobus among them.
And they've all had an impact on the new album, along with the young families of the trio.
The trio are all fathers, which not only means they all understand the demands of a family, but their children often prove a source of inspiration - Sunday Moon for example is about Hall's children pestering their Dad to take them outside to see the moon one Sunday night, and the impact of that small event. His eldest daughter, 16-year-old Jamie, who has her own band, gives him feedback too.
"She's pretty cool. Last time she came to a solo show of mine, I came off stage and she said 'yeah yeah, nice work'."
Hopefully she'll be less nonchalant when she sees the whole trio - all three have multiple instruments to play, and samples to trigger to recreate their layered sound - but they're looking forward to taking some risks with the live show.
"It's a bit like tapping your head and rubbing your tummy at the same time" Hall laughs.
"Come and see us tap our heads and rub our tummys, at a town near you".
Who: Nightchoir, formed by Pluto bandmates Mike Hall, Matthias Jordan and Mike Franklin-Browne
What: Second album See The First Star
When and where: Performing at Leigh Sawmill on Friday night, and at the Dogs Bollix in Auckland on Saturday before a national tour.
nzherald.co.nz recorded performances of Nightchoir last year as part of our Sundae Sessions. Watch them here:
* Nightchoir perform R N R Star
* Nightchoir perform Come Away
* Nightchoir perform 24 Hours A Night
* Nightchoir perform Waters Rain Down
* Nightchoir perform Glass Tiger
-TimeOut