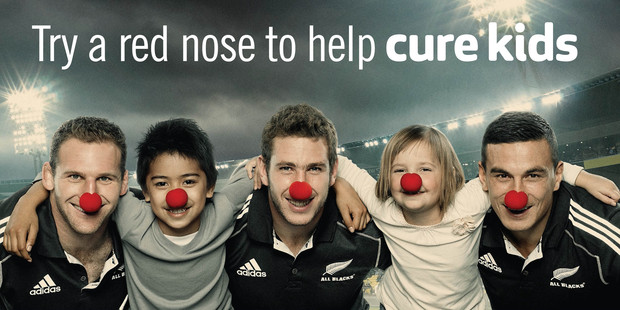 TV3's dominance in the Kiwi comedy arena is likely to get a boost with a star-studded line-up of famous faces taking part in the television special Red Nose Day: Comedy for Cure Kids, screening on August 24.
The Flight of the Conchords have written and recorded a song for the occasion and All Blacks Kieran Read, Luke Romano and Sonny Bill Williams have donned red noses to front some of the promotion material.
Outrageous Fortune stars will reunite on the night and join a variety of Kiwi faces, including Jeremy Corbett, Mark Richardson and Leah Panapa.
The All Blacks have filmed a skit for the TV special.
SBW BOWS OUT WITH CLUTCH OF TITLES
He turned 27 on Friday and Sonny Bill Williams celebrated with another sporting notch on his champion bed post - the Super Rugby title.
"Thank you," he tweeted, "now I can leave with a 2012 champs [sic]".
SBW will leave with a lot more. Add the Rugby World Cup title, a New Zealand heavyweight boxing title and an NRL title, too. Marcus Lush took to Twitter to ask: "Got to be a certainty for a knighthood now?"
Japan beckons in October with a 12-match stint at the Panasonic Wild Knights (reportedly for a whopping $1.2 million) before a career u-turn to the NRL and more bouts in the ring.
All Blacks coach Steve Hansen, not known for his sanguinity, is crossing his digits SBW will be back in black.
He'll play for the All Blacks against Australia later this month. Sports sources say he couldn't be named with the rest of the team on Sunday because of insurance issues with the Japanese franchise.
But SBW has never done anything much like the rest of the team. He's a one-man band marching to his own fame game tune.
Where were we as a country before SBW and his ringmaster agent, Khoder Nasser, catapulted into our consciousness, revolutionising everything from contractual obligations to well-oiled six-packs?
Like Jaime Ridge (with whom SBW had a serious one-month relationship) and her mum, Sally, we too batted our lashes and looked longingly into his big brown eyes.
In a society searching for sporting heroes, we took this piece of chiselled Waikato beef to our beating hearts.
But then the love affair was over. SBW, the cad, dumped us for a more well-endowed Japanese footy club with wide arms and a wider chequebook.
Rugby traditionalists and conventional Kiwis (read Peter Williams) took the break-up hard. They were left jilted at the altar, howling into their hankies and lamenting the loss of those old-fashioned values such as honour and loyalty.
Sonny Bill's only crime (besides unintelligible tweets) has been naked ambition. The most hyped and talked-about athlete New Zealand has produced is chasing the cash - and who can blame him? The NZRU was only too happy to tug from his teats.
Milking the cow is a mutual activity in the economy of fame and SBW understands self-commodification better than any other Kiwi athlete. Team SBW doesn't need to display an overt show-off personality to be a marketable brand - sporting notches speak for themselves.
MIKEY HAVOC MAKES A PIRATE COMEBACK
He left bFM in 2010 after 16 years with the student radio station and has kept a low profile since, but now Mikey Havoc is set to make a mammoth comeback.
The Diary is reliably informed Havoc will be the new face of Radio Hauraki's night show, starting Monday. Inside sources at Hauraki said the station "is assembling a stellar line-up of talent which includes Martin Devlin, Matt Heath and Mikey Havoc".
The Diary understands contracts will be completed today. Havoc's co-host will be the beautiful, blonde Angelina Boyd, who currently presents NZOwn on Juice TV.
Havoc's passion for rock music - some may remember his foray into glam metal as the lead singer of Push Push in the 1990s - is crucial for Hauraki as it attempts to reinvigorate the pirate brand.
"We want the typical Mikey Havoc on air," said an insider at Hauraki's parent company, The Radio Network. "He loves rock music and he loves interacting with the audience. Mikey and Hauraki is a marriage made in heaven."
Havoc's departure from student radio was blamed on budget cuts at the station. Friends say he has since filled in on the odd radio spot.
Hauraki is undertaking a brand overhaul to compete head-on with MediaWorks' The Rock. It's no surprise bosses turned to Havoc.
His talent for telling it like it is and appealing to a blokey male demographic will register for the radio brand as it strives to dominate market share.
A start date for Devlin is yet to be announced, but listeners can expect a new-look Hauraki with a lot of big opinions - and egos. Devlin in the morning and Havoc at night - sounds like a pirate's delight.