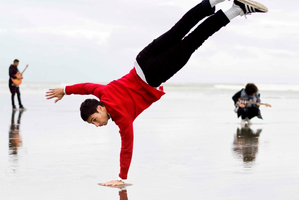 The brand new NZ Dance Company lifts off next week with a showcase of new works and an astounding array of talent.
Survival in the contemporary dance world requires fortitude and a more-than romantic enthusiasm. To launch a full-scale and first-rate dance company, upsize those qualities 100-fold. But Shona McCullagh, artistic and executive director of the neo-nate New Zealand Dance Company has, to quote her mother, "always fitted more into every 24 hours than was humanly possible".
In 1995 McCullagh famously delivered a baby daughter and a stunning season of dance featuring her gorgeous and zany Mad Angels, with Lynda Topp at full yodel, Douglas Wright dancing his Arc 3 solo and several other McCullagh choreographies - all within three days.
When that venture, conceived as a touring show for her company The Human Garden, only received Creative New Zealand funding for the Auckland leg, McCullagh went into financial overdrive and raised the rest of the money herself, describing the total process at the time as one of "sheer grit and determination and a lot of pushing".
Twelve months earlier she had also first proposed a new national contemporary dance company as an answer to the project-based paradigm that has long inhibited the development of contemporary dance and dancers in New Zealand, forcing creative talents into long periods of unemployment and brief periods of undue stress at having to reinvent all aspects of a dance performance at every new opportunity.
McCullagh hoped then to merge the talents of the three leading choreographers of the time - herself, Wright and Michael Parmenter - to provide mutual support, continuity and creative development in the dance sector at large. It was not to be.
"It was impossible to deliver [a national contemporary dance company] within the funding model of that time," she says, a decade on. "We are doing things differently this time."
The NZDC, secure with funding for two years from Creative New Zealand and founding partner Westpac, and now needing just an enthusiastic audience to guarantee its success, launches its premiere season in Auckland next Friday with a five-part programme titled Language of Living plus a "youth engagement" matinee programme called Liftoff!
The "creative alchemy" includes top-flight dancers: Ursula Robb, in McCullagh's choreography Evolve, which explores "the great, astonishing mystery that human beings evolve from a single cell" and showcases Robb at the pinnacle of her international career; Justin Haiu and Craig Bary in Michael Parmenter's Tenerezza, that has seen Parmenter the happiest he has ever been according to McCullagh; Haiu again in his street dance-inspired Release Your Robot that goes a lot further than the usual three-minute hip-hop routine; plus Alex Leonhartsberger, Sarah Foster-Sproull, Hannah Tasker-Poland, Tupua Tigafua and newcomer Lucy Lynch variously in McCullagh's Trees, Birds then People and Foster-Sproul's Human Human God, a poignant, comical piece about Generation Y by a Generation X-er.
There is more live music from the NZ Trio and the Electric Boutique and sets, video design Our mission is to unravel the perception in New Zealand of contemporary dance being elitist and inaccessible.and costumes promise to be far from ordinary.
Robb's costume in Evolve responds to sound with light, says McCullagh, and is a first expression of her latest "research plan".
"Globally, dance is at a high point right now," she says. "Our mission is to unravel the perception in New Zealand of contemporary dance being elitist and inaccessible. Sharing the power of dance is what we are all about. The body is such a potent vessel of communication and live performance is so vital in our mass of screen culture."
A decade ago McCullagh retreated from staging live professional dance events. Instead she focused on dance for film, with huge success, winning several prestigious awards in that field. In 2002 she became a New Zealand Arts Foundation Laureate. She continued to choreograph for theatre, television and film - including Fellowship of the Ring and King Kong and with the granting of a senior choreographic fellowship from CNZ explored the interface of dance, film and interactive software in the full-length work Mondo Nuovo.
And she choreographed the opening of the 2011 Rugby World Cup. Throughout she managed her flourishing talent-placing agency The Human Agency, a venture that significantly honed her business understanding as she liaised between artists and the needs of the corporate and sports sectors, including a highly successful team-building exercise pairing Westpac's top-level bankers with a Kelston hip-hop crew who blew the executives away with their wit and articulate wisdom.
"I did a lot of things in the last decade," McCullagh says, "but I got to a point in my career that I realised I still had a real passion for contemporary dance, that I wanted to see it thrive and that I had some skills to be of benefit."
In 2009 she recruited Frances Turner, now the new company's general manager, and they consulted widely with arts and business professionals to develop a strategic plan.
By June last year they had five new works, the kernel of their debut programme, to present to a private group of potential funders, with the support of The Edge.
"It is difficult to sell contemporary dance to a sponsor," says McCullagh.
"There is no script - it doesn't exist yet. It is very much about relationships."

What: Language of Living with the New Zealand Dance Company
Where and when: Aotea Centre, August 10 & 11 at 7.30pm.