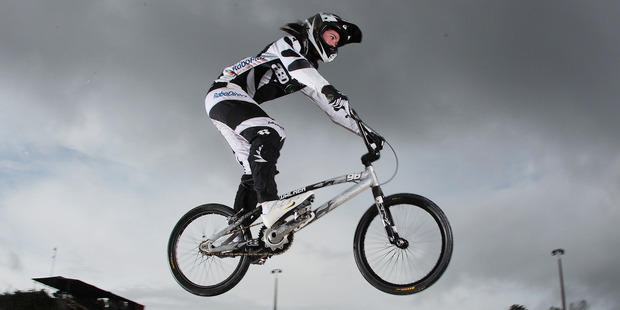 Pick of the week: 2012 Olympic Games
As the second week of the Olympics starts it's time for some chest-beating, shouting and grunting.
As well as Valerie Adams - along with rowers Hamish Bond and Eric Murray, New Zealand's brightest gold medal hope before the games - whirling up a storm in the shotput circle, the pumped-up pomp of the 100m finals will be one of the week's highlights, and then there's the rest of the athletics programme, which starts tomorrow night at 8.55pm NZ time.
The 100m is one of the quickest events to watch, but with all the posturing and preening that goes on before the start, it does take a little longer than nine or so seconds. However, seeing the likes of Jamaican Usain Bolt - world record time is 9.58s - in full flight on Monday morning at 8.50am (SS4) will be worth arriving late for work for.
There will be none of that sort of build-up bravado when our Valerie steps up to take on Nadzeya Ostapchuk of Belarus, her No1 nemesis and potential glory spoiler.
Although there will be much shouting as the shot is hurled into the air when the heats start on Monday (9.40pm, SS10) followed by the final on Tuesday (6.10am, SS9). Go Val.
Other key events at the track and field include the men's 1500m with Kiwi Nick Willis (starts Saturday, 5.55am, SS4; final, around 9am, Wednesday, SS4), there will be high-flying action in the women's pole vault final (Tuesday, 5.45am, SS4) and the men's high jump final on Wednesday morning from 5.45am (also on SS4).
The best bike riding action is at the velodrome in the early hours of the morning, starting tomorrow with everything from the haphazard free-for-all of the keirin, to the precision of the team pursuit.
Over on the dirt track, Kiwi BMX racer Sarah Walker starts her campaign late Wednesday night (starting 1.55am, Thursday, Aug 9).
Then there's the prime-time Saturday night viewing this weekend of the women's triathlon at 7.55pm (SS6), with Kiwi Andrea Hewitt a hot tip for a medal (the men's race is on Tuesday, 10.25pm, SS7).
The big 120kg Greco-Roman wrestling boys are in action on Tuesday morning (from 4.40am, SS10), and the women's and men's 3m springboard diving finals are on Monday, 5.55am (SS5) and Wednesday, 5.55am (SS5).
Of the team sports, the New Zealand women's hockey team play Argentina (Friday, 8.05am, Sky Sport 6) and the United States (Saturday, 5.50am, Sky Sport 7), and the men's hockey team take on the Netherlands (Friday, 9.35pm, Sky Sport 9) and Belgium (Saturday, 7.20pm, Sky Sport 5).
There is a rolling draw of football and basketball games worth checking out through the week.
The men's football final is on August 11 and the basketball gold medal match is on August 12.
As well as Sky Sport coverage, Prime has free-to-air coverage all day.
When: Various times
Where: Sky Sport 4-11, Prime
What: Week two - the ones to watch
Food pick: Kitchen Nightmares
In the first episode of this new series, chef Gordon Ramsay is accused of planting a mouse just inside the front door of Blackberry Restaurant in New Jersey for the sake of TV drama.
Ramsay is certainly a bit of a rogue, but he's here to help rather than hinder them. The accusation by owner Shelly Withers and her staff is indicative of the pressure they are under.
Shelly believes Blackberry's has the perfect location, decor and food - yet she has no customers. As Ramsay goes behind the scenes he finds a kitchen in total chaos.
Meanwhile, the latest series of Ramsay's cooking competition show Hell's Kitchen (Wednesday, 8.30pm, TV2) finishes this week with a showdown between the final two.
When: Thursday, 9.35pm
Where: TV2
What: Ramsay to the rescue
Doco pick: The Price of Fish
The domestic fishing fleet is in trouble, says this Inside New Zealand documentary. In the past 10 years the number of boats has halved, while Russian and Korean factory trawlers are plundering New Zealand waters - and being paid by New Zealand companies to do it.
Many companies own or lease quota and charter foreign trawlers instead of using Kiwi fishing boats. The other problem is that some of these foreign boats ignore New Zealand laws, marine regulations and sustainable fishing practices.
This INZ documentary investigates the way foreign charter fishing boats are causing dwindling New Zealand fish stocks, abusing crews, doctoring catch reports, and dumping illegally.
When: Thursday, 9.30pm
Where: TV3
What: Foreign fleets filching our fish
Drama pick: Hart of Dixie
Taking over from Pretty Little Liars in the early Sunday evening slot is comfy comedy-drama Hart of Dixie, starring Rachel Bilson (The OC) as an ambitious young surgeon who finds herself heading to the unfamiliar surrounds of southern town BlueBell to work on her bedside manner as a GP.
Similar in tone to sweet and light small-town American dramas such as the Gilmore Girls, and Ed, it is a gentle tale of self-discovery for Dr Zoe Hart. Privileged and talented, the New Yorker is shocked when she misses out on an important fellowship, and is forced to head south for a different kind of work opportunity. Despite the fact that there are several southerners who'd prefer her to leave, it's not long before Dr Hart is thinking she might want to stay.
When: Sunday, 5.30pm
Where: TV2
What: Learning a southern bedside manner.
Environmental pick: Ice Man - The Lewis Gordon Pugh Story
Lewis Pugh, who was born in Britain and raised in South Africa, is an environmental campaigner, maritime lawyer, and keen endurance swimmer. He's made a name for himself working with groups such as the World Wildlife Fund, the Polar Defence Project, and public speaking including presenting at the 2009 United Nations Climate Change Conference. He's also decided to combine his passion for swimming and the environment by undertaking long-distance swims in freezing conditions - hence his nickname the Ice Man. In this documentary we watch him as he prepares and undertakes long-distance swims in both the North and South Pole, wearing nothing more than speedos and a swim cap in icy cold waters of minus 1.7C.
When: Tuesday, 8.30pm
Where: Maori TV
What: Extreme winter swimming
- TimeOut