A sci-fi comedy about Nazis returning to Earth from the Moon has become a surprise hit.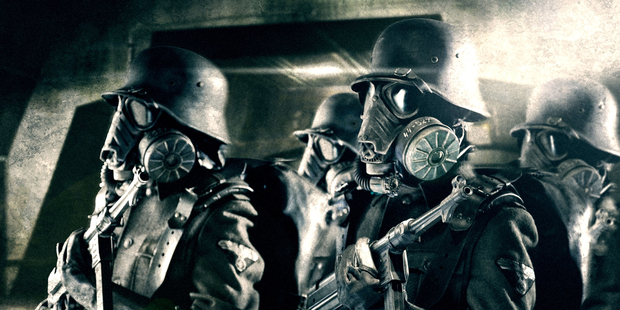 If Darth Vader's helmet made him look like a Nazi from outer space as he led the Empire's stormtroopers, now he's got company. Finnish sci-fi film Iron Sky ponders what might happen if German Nazis had fled the Earth at the end of World War II to live on the moon and plot their return.
It was the hot ticket at this year's Berlin Film Festival and now the low-budget flick - which raised more than US$1 million ($1.2 million) of its US$8 million budget - through an internet appeal to potential fans.
Made by first-time director Timo Vuorensola, the only cast member with any sort of name recognition is German cult star Udo Kier, stalwart of vampire and Von Trier movies, who plays Wolfgang Kortzfleisch, the leader of the Moon Nazis. He and his fellow Nazis are discovered when the President of the US (New Zealand actress Stephanie Paul), a gym-loving mother modelled on Sarah Palin, is advised that sending astronauts back to the Moon will help to boost her chance of re-election.
Set in 2018 and shot in a slapdash style, Iron Sky uses the idea of Moon Nazis invading New York to create a burning satire on US politics and spin.
At times, the acting and dialogue is clunky, but the special effects belie the tiny budget. This is schlock, over-the-top storytelling at its riotous and enjoyable best. Hilarious comparisons are made between the rhetoric of Nazi speeches and American presidential campaigns.
No attempts are made to explain how the Nazis got to the Moon, nor how they survive. Much is made of how technologically inept the Nazis' mad scientist is, yet moments later the Nazis are flying to Earth on a fleet of heavily armed spaceships.
The action is made up of a series of humorous set-pieces, with a central romance in which the perfect Aryan female (Julie Dietze) falls in love with a black astronaut. It's the type of film Hollywood studios would not touch with a bargepole - though it has been hailed as this year's answer to Snakes on a Plane.
As such, the film-makers were forced to go underground. The internet has been buzzing about Iron Sky for months and its trailer released a few days before the premiere in Berlin received a million hits in less than 24 hours.
The film-makers have cleverly made up for the small marketing campaign with a perfectly executed viral attack on social media sites and those who helped fund the film have also helped promote it.
"The internet played a big role in the film-making process. The idea was to make the production process itself a part of the story and it's a big marketing aspect as well," says Vuorensola. "It was funny to be so popular. It's hard to understand how we got so big."
Using the internet for movie financing is an increasingly common phenomenon. There are a growing number of websites such as Kickstarter that aim to help film-makers find money for their films. Kickstarter works by setting a time limit and a funding goal: if the target is not reached, the money is returned to potential investors.
"You have to find a way to pitch the film in a way that is really easy to understand and easy to grasp," says Vuorensola. "The attention span on the internet is so short you have to grab them with something. For this film, it felt so organic to use the internet community to fund and support it." The only downside is that the sheer number of investors makes the end credits incredibly long.
What: Iron Sky, sci-fi comedy about Nazis, who have been hiding out on the Moon since 1945, returning to Earth
When: Opens at cinemas next Thursday
On the web: www.ironsky.net
- TimeOut / Independent