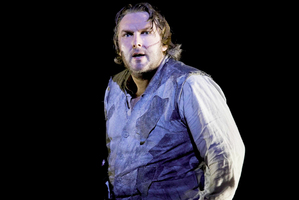 Three weeks ago, Simon O'Neill was on stage at San Francisco Opera, taking his final bows as Mao Tse-Tung in the company's production of John Adams' Nixon in China. New Zealand's most celebrated tenor is now back home, playing Siegmund in today's presentation of Wagner's Die Walkure (The Valkyrie) by the New Zealand Symphony Orchestra.
He ponders the term "light relief" to describe his San Francisco engagement, but "there was nothing light about it", he laughs. "My career is pretty much set in the German romantic repertoire and Nixon certainly used a different area of my brain!"
Die Walkure is familiar territory and O'Neill is relieved not to be spending two hours in makeup as he did for the Adams opera. Nevertheless, he says this version will come with the full Wagner experience.
"We may not have mountains, or swords, helmets and breastplates, but there's definitely Wagnerian stature here." Another breezy laugh as he goes to tribute a troupe of local Valkyries ("we call them Val-kiwis") and Christine Goerke, "this incredible Brunnhilde from the Met".
But the reason Wagner's opera works so well without a dramatic staging lies within the piece itself. "Most of Die Walkure is basically a conversation between two or at most three people," he explains.
Some will already be familiar with O'Neill's high-powered performance as Siegmund in concert at the 2008 Ravello Festival, which turns up from time to time on the Arts Channel. This was a turning point in his career and, once he has regaled me with the curious fact that you can find a New Zealand cabbage tree in Klingsor's Garden at the town's Villa Rufollo, he goes into raptures over standing and singing alongside Waltraud Meier and John Tomlinson with Daniel Barenboim conducting.
O'Neill has worked under the world's star conductors and one gathers that our Walkure's Pietari Inkinen deserves to be up there with them. "I love Pietari's phrase," he muses. "It's old school. He even looks like a young Karajan from behind. Most importantly, he's not afraid to take his time and doesn't rush those absolutely gorgeous moments in the third act between Wotan and Brunnhilde. And he's especially lucky having the NZSO playing like absolute gods themselves."
In a word, Inkinen is "brilliant" and the tenor is looking forward to their first Ring cycle together, in Palermo, next year.
As for the role of Siegmund, O'Neill admits he rather likes the man. "I love his slightly animal nature," says O'Neill. "We meet him and he's out there with his dad, hunting like wolves. But, once he meets Sieglinde, his beautiful poetic nature comes out and he reveals it in that great aria, Wintersturme wichen dem Wonnemond. He's a great character and I'm sad that he gets killed because he's probably my favourite tenor role.
"Siegmund's music is some of finest in the whole Ring cycle," O'Neill adds, "Especially the last 10 minutes of the first act, which is my favourite act of any opera. Siegmund and Sieglinde, unaware they are brother and sister, have just fallen in love and the music is an absolute dream to sing. I've done it with some formidable Sieglindes from Waltraud Meier to Deborah Voigt," O'Neill comments, putting his Auckland partner, Italian soprano Edith Haller on the same level. "She's tall, too, so we could easily pass for brother and sister."
Performance
What: The Valkyrie with the New Zealand Symphony Opera
Where and when: Auckland Town Hall, today at 4pm