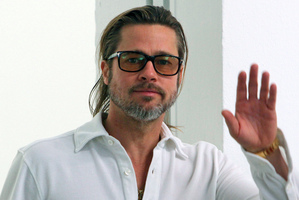 Brad Pitt is used to living it up at his €45 million ($69 million) estate in the South of France, or any of the half a dozen homes he owns all over the world.
But the leading man has downsized his vision and indulged his passion for architecture to build a US$200,000 ($250,000) house he hopes will be a model for sustainable living.
It's all for a good cause, of course, and Pitt had help from Frank Gehry, the architect better known for the shimmering Bilbao Guggenheim Museum in Spain.
Their pink house stands in the Lower 9th Ward of New Orleans, Louisiana, one of the areas hardest hit by Hurricane Katrina in 2005.
Pitt promised to build 150 such houses after the disaster left thousands of people homeless.
He set up the Make It Right foundation and called on his impeccable contacts in the architecture world to come up with designs. This is the first house designed by Canadian-born Gehry, who is more used to creating concert halls and skyscrapers.
The building incorporates a three-bedroom and a one-bedroom house and includes a rooftop patio covered with a canopy of solar panels. Its price is typical for its size and location, despite its big-name backers.
This is more than a pet project for Pitt. He has secured funding from philanthropists including Steve Bing, and in 2009 met President Barack Obama to promote his dreams of green housing as a national blueprint that might attract federal money.
Gehry said he approved of the finished product: "I love the colours that the homeowner chose."
Pitt has long been a student of design and architecture, lavishing millions on his homes with his wife, Angelina Jolie.
He is modest about his work in New Orleans, telling talk show host Ellen DeGeneres in March: "This took a lot of very smart people coming in and attacking the situation ... I get far too much credit for bringing [them] together."
He also joked about his architectural ambitions for at least one of his six young children. "Yeah, I'm pushing them that way. When you see them drawing crayon houses: 'That's a beautiful house, honey.' You just keep pushing them."
- Independent