Keith Barry is heading here to hack into our brains. Scott Kara is the first victim of his mental abilities.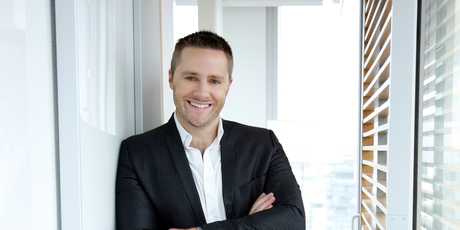 There is an Irishman out there who knows the pin number to my ATM and credit cards. His name is Keith Barry, and he's a seemingly nice chap, with that typically cheery Irish accent and charm. But he is a dangerous man. He sizes you up, gets inside your head, and wangles all sorts of personal information out of you.
He doesn't do it forcefully, though he does touch you, doing weird things like holding your arm and waving it round as he counts out numbers. He also looks into your eyes a lot. So he's not some heavy. You see, Barry is a mentalist or what he calls a "brain hacker". He's also a magician and a hypnotist.
He was in Auckland recently on a quick promotional visit to New Zealand ahead of his shows next month, which, as well as brain hacking, hypnotism, and tinkering with people's minds, also includes Barry doing everything from stopping his pulse ("I literally die on stage. There's no trick or illusion to it. I've learned to slow down my pulse") to contacting an audience member's dead loved one.
I know how Barry got those four numbers out of me. Not that I could do it, because he's very clever and has had years of practice. But this is - roughly - how he did it.
First he got me to write down my pin number, and there was no way he could have seen it. Then he "calibrates" me, getting me to throw a dice a number of times ensuring different numbers keep coming up. Then I roll the dice again, and have to remember the number I rolled. He looks at me with his evil eye and asks me whether it is a one, two, three, four, five or six, but I have to say "No" every time. He guesses that it is a five, and he's right.
Then he grabs my arm, standing beside as if we're standing at a cash machine together, and I have to concentrate on the first digit of my pin as he waves my hand over the imaginary keyboard in front of us. He does this for the next three digits too. I know what he's doing, and I can feel myself tensing or lunging slightly as my hand moves over the number I'm concentrating on.
But still, it's impressive, and in less 30 seconds he says, "It's ****. Is that it?" That's it.
"Change your pin number," he smiles.
Barry thinks of himself as an entertainer with a special "skill".
"For me, everything I do I've learned how to do. Some people call it a gift, but I'm just obsessed by the mind and how it works and functions, especially on a subconscious level."
The 35-year-old says he needs only three or four hours sleep a night so after his family have gone to bed he sits up reading and researching more about the brain.
So your research is limitless? "That's what I love about it. That's why I love flying so much because I can sit down and read. The book I'm reading at the moment is about Hitler's Jewish clairvoyant, a guy by the name of Erik Jan Hanussen, and people don't realise Hitler used a clairvoyant when he was in power.
"It was Hanussen who told Hitler to adopt the swastika and he taught Hitler all his brainwashing techniques," he says.
He first found fame on TV show Close Encounters with Keith Barry in the early 2000s, and since then has performed for A-list celebrities, including Beyonce, Colin Farrell and Justin Timberlake; freaked out Scarlett Johansson with one of his nightclub tricks and scared the daylights out of Pussycat Doll Nicole Scherzinger when he took her driving blindfolded.
He's like the rock star of hypnotism. He tours the world regularly doing his one-man show, has his own Discovery Channel series, Deception with Keith Barry, and reckons he can cure people's phobias too. He started doing magic when he was 5, and in his late teens became increasingly interested in the "power of the subconscious mind" and learning hypnosis.
"So when you put all those different elements together you make it look like you can read someone's mind, whereas really what I'm doing is observing human behaviour patterns, because we're all pattern-followers."
He calls what he does brain hacking because he likens people's brains to computers, since they both store large amounts of information.
"And people can send in viruses to computers and someone like me can send viruses into brains and affect the brain in negative ways if I want to. Some computers have security software that make it impossible to hack in to, and it's the same with brains - some malfunction, and some you can't hack into them at all."
He does meet his match sometimes when he comes across a person who really doesn't want their brain hacked.
"And people of below normal intelligence are difficult to hack into too, it's not because they are stupid but because they can't listen and can't follow commands," he smiles.
Whereas those who are sceptical about his skill are easy "because you use that scepticism against them because they are pretty linear in their thinking".
He lets his audience know what they are in for before they venture up on stage - that they will be embarrassed and end up doing things they are not accustomed to.
"I'm not doing it to ridicule a person but people who come to my shows understand that it's out there. I say, 'I will make you do things against your morals and your values and if you have a problem with that or you think your partner will have a problem with that then don't come up on stage. You're going to do things sexual, crazy, and bonkers'."
But still, hundreds of people make a run for the stage," he laughs.
Who: Keith Barry, mentalist, hypnotist, mind reader
Where & when: Bruce Mason Centre, Auckland, August 8; Wellington Opera House, August 13
More info: keithbarry.com
- TimeOut
By Scott Kara @scottkara

Email

Scott