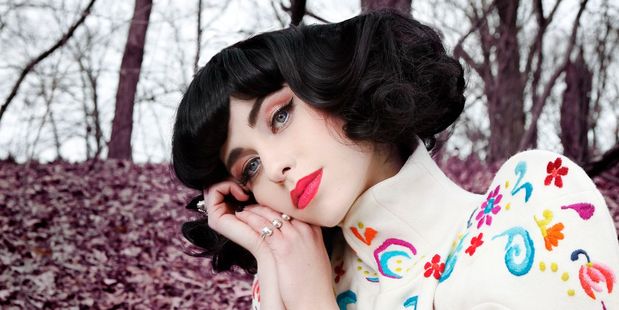 Pop sensation Kimbra is heading back to New Zealand to perform a one-off show at Vector Arena this Saturday night, whipping home after a short visit to Australia for the Splendour In The Grass festival.
This will be only the third time the pint-sized star has performed here since her debut album Vows was released in August last year, as she's been touring North America and Europe for many months, promoting the album and capitalising on the mass of attention heaped on her after Somebody That I Used To Know - the duet with Australian artist Gotye which became a global number one.
She's been on Jay Leno and Saturday Night Live, performed at SXSW and recorded another catchy duet Warrior (complete with a Mexican wrestling-inspired video) with Mark Foster (of Foster the People) and A-Track. Plus she's been touring alongside Gotye, and Foster the People, all of which helped her album reach number 14 in America, and propel her towards worldwide recognition.
"It's been like an adrenaline shot for people's awareness of her, which has been amazing" her manager Mark Richardson says of the Somebody phenomenon.
"It's created an interest, and an appreciation, which is great, because the hardest thing to do in the early days is get that attention, and getting the chance to show people what you can do. And she's more than capable of standing up in the glory of that record."
Kimbra herself wasn't able to chat, busy filming a new music video for Come Into My Head earlier this week, but Richardson was happy to give some insight into their future plans.
"The record has just been released in Europe over July, and has been out in America since May so we're going back again to tour from August until November, and then she'll be back in Australia to do some festivals over the Christmas period."
Fans will be pleased to know there's already new songs in development, and they're thinking ahead to the next album.
"She never stops writing, or thinking about her songs, and we're just starting to get focused on what's next musically. In August she's going to go and work with Damian Taylor [Bjork's producer] in Montreal, spending a bit of time with him."
There have been many offers from people who'd like to work with her, and for further collaborative projects too, so there could be other releases before a new album.
"I suppose collaborating has become an obvious thing for people to suggest, but we're just being cautious and sensitive about making sure they're the right things to do. We're up for it, but there's more to Kimbra than just a vocal feature," he laughs.
She's played something in the vicinity of 500 shows in the past 24 months, so the crowd can expect a pretty bang-on, high-energy performance on Saturday. She'll be playing popular favourites like Settle Down, Cameo Lover, and Two Way Street, plus a couple of new tracks, including Warrior.
"It'll be a special moment. After a couple of years of touring, the band and Kimbra are just firing. The more you do it, the better you are, so they're just in a great place right now."
They're keen to do a headlining tour of NZ in the near future rather than just sporadic shows, it's just a matter of finding time in her schedule - which is incredibly busy. Luckily her work ethic and enthusiasm seem as strong as ever.
"It's in her blood to do this, I can't imagine her doing anything else. And we've only just started to see what she's capable of, and she's hungry."
- TimeOut