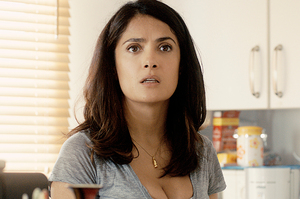 Released in the US under the name As Luck Would Have It, this approachable Spanish feature, which blends satire, black comedy and soap opera, is better titled here with a direct translation of the Spanish original. The phrase was a slogan dreamed up years ago by Madrid advertising man Roberto (Mota, a popular TV comedian). Now 40ish and jobless - the commentary on Spain's parlous economy is subtle but persistent - he can't even get appointments with old colleagues.
After an unsuccessful job interview, he drives on a whim to Cartagena to see the hotel where he and his wife Luisa (Hayek) spent their honeymoon.
Here, in an accident whose complicated cause is best not described, he winds up on an archaeological site, pinned to some reinforcing steel like an insect on an entomologist's display case in such a way that doctors dare not move him.
If the symbolism seems straightforward, there's more to come. Roberto's plight becomes breaking news and before you can say "exclusive deal", PR firms are discussing product placement potential and asserting the contractual value of his delaying rescue.
Crowds gather with "We are all Roberto" banners; ponderous commentators intone; authorities fume about the fallout.
Writer Randy Feldman (an American whose credits include Sylvester Stallone and Jean-Claude van Damme movies) keeps the pace agreeably jaunty.
The fact that the tone keeps shifting from comic to angry to absurdist becomes a virtue, because it keeps us off balance and invites us to consider how implicated we may be.
Only in the last few minutes, when the film slaps its audience in the face, does it come very close to falling into the kind of tacky sentimentalism it derides.
But it doesn't detract from an entertaining and polished movie.
Stars: 3.5/5
Cast: Jose Mota, Salma Hayek, Fernando Tejero
Director: Alex de la Iglesia
Running time: 95 mins
Rating: M (offensive language and content that may disturb) in Spanish with English subtitles
Verdict: Entertaining, well-paced Spanish satire of celebrity culture
- TimeOut