The all-singing and dancing Wiggles have been a favourite for kids for many years. Now three of the original line-up say goodbye in a final tour before handing over their coloured skivvies to a new trio. Scott Kara talks to 'purple Wiggle' Jeff.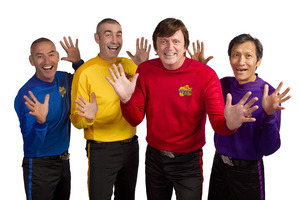 Jeff, the purple Wiggle, knows he has subjected much pain and suffering on parents around the world at the same time as bringing joy to millions of kids.
The Wiggles' catchy songs - let me hear you sing it: "Toot toot chugga chugga big red car" - have driven many grown-ups nuts over the years. And yes, Jeff has heard of the Australian mega-group's DVDs, and their popular TV show, being banned from some households. But kids love them.
"We keep the melodies simple, the lyrics conceptually simple and hopefully we don't drive the parents too crazy at the same time," he laughs. "But that's the natural thing that happens with children, if they like something, they will play it ... a lot."
And besides, the Wiggles is not about grown-ups. It's about the kids, and always has been ever since Jeff (his last name is Fatt) joined his skivvy-wearing, music-making mates Murray Cook (red), Greg Page (yellow) and Anthony Field (blue) to start the band in Sydney in 1991. Okay, so they didn't start wearing skivvies until a little later on, but hey, their colour coding is an intrinsic part of their identity these days.
The story goes that Murray, Greg and Anthony met at university while studying early childhood education, they started writing children's songs together in a hope it would help them get a job after their studies, and asked Jeff to jump on board since he had played in 60s-inspired pop band the Cockroaches with Anthony throughout the 80s.
And the songs they came up with - like Get Ready to Wiggle, Rock-A-Bye Your Bear and Dorothy the Dinosaur - have a pop music sensibility but with an entertaining and educational focus for their predominantly preschool audience.
"It's something that gets the brain dancing," says Jeff, on the phone from Sydney, about music's power to help kids learn. "And we are essentially coming from our own musical experience from growing up in the 60s - so we relate to that pop and rock idiom."
And now, 21 years on, the Wiggles are one of Australia's biggest bands - and last year were the second highest paid entertainers across the Tasman, earning around A$28 million ($36 million).
But come September, when the Wiggles Celebration Tour chugga chugs into New Zealand for 11 dates, including two shows at Vector Arena, it will mark the end of an era.
It will be the last time the four original Wiggles will perform together because Jeff, Murray and Greg are handing over their skivvies to new Wiggles Lachlan Gillespie, Simon Pryce and Emma Watkins, the first woman Wiggle (not counting Dorothy).
Anthony is staying on in the line-up and the retiring trio will take up backstage creative roles to keep the entertainment phenomenon rolling. Greg retired from the group after health problems in 2006 to be replaced by his understudy Sam Moran, who was controversially bumped out of the line-up when Greg returned at the beginning of this year.
When the briefly restored original line-up come to New Zealand they will have all their favourite Wiggle friends in tow, including Dorothy, friendly freaky pirate Captain Feathersword and Wags the Dog, and they will be singing all the hits.
"I've got mixed feelings," says 58-year-old Jeff.
"From the shows we've been doing, and seeing the children, there have been a few tears, but it won't really hit until we do that last show in Sydney."
Not surprisingly, his fondest memory of being a Wiggle is the impact the band has on kids everywhere they go - and in particular children with disabilities.
"There are parents who have a child with autism, they come up to us and tell us how our music has been a communication tool for their child. They respond to it, and nothing else. That's something we never set out to do originally, but that's something I cherish," he says.
The Wiggles started gaining popularity in Australia throughout the 90s by releasing albums, music videos, and gigging hard around the country in support of them (just like any other band).
"Children were relating to it really well and parents could see their reaction and the impact it was having on them. That was the first turning point."
The Wiggles TV show started in 1999 and soon after, world Wiggle domination started taking hold when Disney picked the group up in the US and "got us into the households of hundreds of thousands of Americans".
Although, as in Australia, they did the hard yards gigging across the US in the early years playing to "handfuls" of people in carparks outside video stores and shopping malls in small town America.
That soon changed and in 2003 they played 12 sold-out shows at Madison Square Garden in New York, and in November 2005 they performed to more 250,000 people in one month on a US concert tour.
Jeff reckons being in the band has kept him young, though he had a heart complaint last year and had to have a pacemaker fitted. But he's quick to point out that it was more of a congenital condition rather than a side effect from jumping around on stage.
"It's a very physical thing we do at our concerts and it has kept me somewhat sprightly over the years. But having said that it is time to concentrate on my health," he laughs. "And I've got a couple of compressed discs in my spine and the more you jump around the more you aggravate that sort of thing. But I'm still able to perform and you get so much energy from your audience."
For those grown-ups not in the know, Jeff is the one who gets shouted at by the kids to "wake up, Jeff" at the beginning of the Wiggles TV show or concert - and during it when he suddenly falls asleep.
It came about because he was the only original member not to have any early childhood training and initially performing in front of kids was a little scary for him.
"It was a bit like being thrown in at the deep end because when you go out to perform in front of children, if you haven't done it before, it can be terrifying. So that's the way the wake up Jeff thing started; because it was a way of getting me involved without having to actually say anything. And it's also a very empowering tool for children to be able to wake up a grown up. That stuck and I'm quite happy with it."
And as for what it takes to be a Wiggle. Well, not being scared to be a bit silly is a good start.
"You have to be larger than life on stage too. You have to love music. But not taking yourself too seriously, that's the main thing. Because it's a licence to be silly on stage, and the sillier the better because that's what children relate to."
Lowdown
Who: Jeff (the purple Wiggle) from the Wiggles
What: The Celebration Tour, marking the retirement of original Wiggles Jeff, Murray, and Greg.
Where & when: September 15 and 16, Vector Arena, Auckland. They also play St James Theatre, Wellington, September 8 and 9; Regent, Palmerston North, September 10; TSB Theatre, New Plymouth, September 12; Founders Theatre, Hamilton. For full tour dates see thewiggles.com.au
Tickets: ticketmaster.co.nz.
- TimeOut