Lydia Jenkin talks to My Kitchen Rules judge Pete Evans about the joys and perils of the show's competitors cooking in pairs - this season including one Kiwi couple.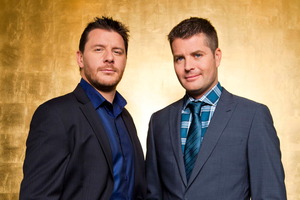 It seems almost a given these days - if you're a chef worth your black truffle salt, you also need a TV show. Australian restaurateur Pete Evans spent 15 years swapping deftly between a knife and a hot frying pan, working 80-hour weeks in many kitchens, and has opened five restaurants and written six cookbooks, but of late he's become something of a transtasman celebrity as a judge on cooking competition show My Kitchen Rules. Following the likes of MasterChef and Hells Kitchen, it's a lengthy competition in which amateur chefs get to show off their culinary skills, hoping to ultimately win A$250,000 ($323,800).
Season three is about to begin screening three nights a week on TV2, and it's the first season a Kiwi couple have been involved. The show's point of difference is that participants have to go through the entire competition as a pair, and this time around they've got everyone from married couples, to army buddies, siblings, to a potential mother and daughter in-law.
"Manu [judge Manu Feildel] and I have no part in choosing the contestants" Evans explains, "because we're the judges, and what we're judging is the food only. We know the TV show needs to have colourful characters, but if we were selecting the contestants, we wouldn't know how to judge them except on food. To make a TV show, you need the whole package, you can't just have 12 husband and wife teams, you need a good cross demographic, so we leave that to the producers."
But just to be clear, the contestants have all proved they can cook by the time they're in front of the judges. And Evans thinks the cooking on this series is the best yet.
"In the latter parts of the show, I've said that this is some of the best food I've ever eaten anywhere in the world. There are dishes that have floored me, and I've given out quite a few tens. Which is fantastic. Obviously there's been a couple of shockers as well, just due to stress, and things going wrong under pressure."
The main downfall for many teams comes when they're over ambitious. "They try to impress us with dishes they've never cooked before, which I think is crazy. I understand why they're doing it, but maybe not at the start of the competition. A roast, or a pie, or something that you've cooked a hundred times, and you've got it perfect, that's what to go for, rather than attempting restaurant style food with smoke and mirrors."
Given the explosion of cooking competition-type TV shows in recent years, it seems that the MKR formula of having contestants in pairs is a dynamic audiences love. "I think the energy and effects that come from it, positive and negative, they're compelling. And viewers like to be able to sit at home and go, 'hmm, I wonder if I cooked with my mother-in-law, or my partner, or my son or daughter, how would it work? Who would be the boss?"'
And though Evans says one of the keys to success on the show is to choose someone to lead in each challenge, at home he's happy to share the responsibilities - even if it's hard to imagine a professional chef relinquishing control in the kitchen.
"I love cooking with others. Myself and my girlfriend [Nicky Watson] cook often and we enjoy that time in the kitchen together, and we learn from each other. It's a really nice thing, and I think couples should possibly do it more. Or maybe just takes turns," he laughs.
LOWDOWN
Who: Pete Evans, chef and TV personality
What: My Kitchen Rules, season three
When and where: Sunday, Monday and Tuesday, 7.30pm on TV2My Kitchen Rules judges Manu Feildel and Pete Evans
-TimeOut