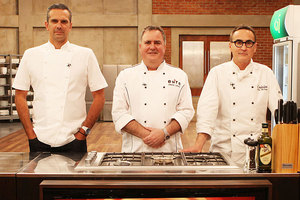 Fewer than 12 people from the South Island have signed up to audition for MasterChef NZ, leaving organisers asking why.
One of the hit show's three judges, Ray McVinnie, said South Islanders "need to wake up".
He said he was "really surprised" so few people wanted to be part of the show.
"Cooks always love to test themselves ... even if you don't win you get lots of great culinary opportunities. Do something interesting and really adventurous," he said.
MasterChef NZ production manager Vanessa Ropati said "less than a dozen" people had signed up for next month's auditions compared with the hundreds from previous years.
"That's not enough, for the whole South Island. We have two days scheduled for auditions. We will cut it down to one unless we get a good influx," she said.
Auditioning for the show was not as scary as it seemed, as the initial audition was off-screen and was not in front of the judges.
She was keen to see as many people involved as possible, including "more guys and oldies".
"We need some character and diversity. We need some southern style in there."
Along with being available for the auditions on August 16 and 17, candidates would need to be available from the end of August to the end of November for filming.