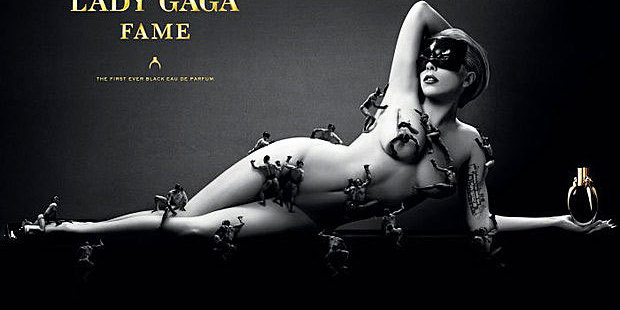 We know her as the lady of perpetual sartorial commotion, but to promote her debut perfume pop diva Lady Gaga has opted to bare all instead.
The Marry The Night hitmaker, 26, debuted the promo shot for her Fame fragrance on Twitter yesterday, which was taken by famed fashion photographer Steven Klein.
Wrote Gaga, who worked with fragrance giant Coty Beauty on the signature scent: "I won't lie I'm a bit nervous. It's been a while since I've shared some work with you.
"But I'm so proud of Steven + I, we really did not sleep!"
In the black-and-white shot, a reclining Gaga appears completely nude - save for a black mask, and a few strategically-placed, scantily-clad miniature men to cover up her naughty bits.
Cor blimey, if this is just the print ad, best we buckle up for the upcoming TV promo.
Dubbed "the first-ever black perfume," the fragrance turns clear once spritzed, according to Coty Beauty executive Steve Mormoris.
"It is the first-ever black eau de parfum and we use language like 'black like the soul of fame but invisible once airborne,' which makes the fragrance an allusion to the dark side of fame... And it will smell different on different people," he told Women's Wear Daily.
"There is a different volatility for different notes, and they're of differing strengths. They work together harmoniously, but then they undergo metamorphosis on the skin, so you're constantly surprised."
Back in 2011, Gaga famously dished that her scent will smell "like an expensive hooker" and claimed that her perfume contained blood and semen.
"And the blood was taken from my own blood sample, so it's like a sense of having me on your skin."
Such a tease.
The bottle lists the actual ingredients as "tears of belladonna, crushed heart of tiger orchidea with a black veil of incense, pulverised apricot and the combinative essences of saffron and honey drops," according to Entertainment Weekly.
Fancy a spritz, folks?
Lady Gaga Fame will debut in the US in September.
- Blogger Bites Back