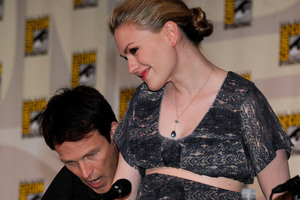 While fans reportedly went wild at Sir Peter Jackson's 12-minute preview screening of The Hobbit at Comic Con over the weekend, fellow Kiwi Anna Paquin was raising temperatures as she promoted season five of True Blood, the hit show which sports some extra saucy sex scenes.
The star, who is pregnant with twins, flashed some flesh in a crop top and skirt at the San Diego fan event. The 29-year-old's bare belly drew raised brows at the forum, even though it is cleverly disguised on the show. "I know that [Anna's] stunt double has had more work than needed before," co-star Todd Lowe told Celebuzz about Paquin's bump. "I know they're pretty creative with staging and costuming."
SONGBIRD TRIO JOIN VOICES FOR SINGLE
Three of New Zealand's award-winning singer-songwriters have joined forces in a unique collaboration to write and record music together.
Anika Moa, Boh Runga and Hollie Smith have been secretly working on new material over the past two months and are set to release their first single on July 23.
Final mixing of the song was done last week and Smith took to Twitter to tease fans about the new project.
"It's so close," she said. "What shall we call it? Think we are going simple with 'Anika, Boh and Hollie'. We are very creative, obviously."
Named in alphabetical order to stave off any preferential treatment, Moa had another idea for the "sexy new band". "I like Gypsy for a band name but no one seems to agree."
Aside from the odd social media leak, the stars and their management (CRS) are staying schtum about the details of the single before it is released next week. The longtime friends say they are excited to be working together.
There's no word on when an album will be launched, but a tour is expected.
Meanwhile, Pip Brown, aka Ladyhawke, who turned 33 on Friday, performed in Auckland at the weekend to rave reviews. She plays Melbourne tonight and Sydney tomorrow.
And Kimbra, who has just released a new music video, performed in Istanbul on Sunday. "What a tease to be in this incredible city for only one night," she pined on Twitter. She plays Auckland next week.
HENRY'S OZ VENTURE LOOKING LAME
As the Aussie media broke news at the weekend that Paul Henry's troubled Channel Ten Breakfast show is "an unmitigated disaster" which scraped only 1000 viewers one day, a former colleague at MediaWorks suggested plainly: "Paul, it's time to come home."
Rumours circled last week that Henry would return home to New Zealand by the end of the year if ratings continue to fall on his show.
His boss, Anthony Flannery, says he's committed to the programme and the race for ratings is "a marathon, not a sprint", but one wonders how long his commitment will run.
Blogger David Knox said on the TV Tonight website that Flannery should start again. "Ten should already be plotting a relaunch for 2013."
TVNZ reporter and producer Ali Pugh is no doubt relieved she did not take up Flannery's offer to join Henry and Sarah Bristow on the ill-fated show.
But if Breakfast continues to trickle in appeal, how long before the tap is turned off for good? And would the company which graciously let Henry follow his ego and the large cheque waved by Lachlan Murdoch even have him back? Yes, say MediaWorks.
Henry contributes to RadioLive as a part-time correspondent and is still contracted to TV3 show Would I Lie To You?
The Diary understands he is precluded from working for competitors TVNZ or TRN. But any return this side of the pond would be a fall from grace for the broadcaster.
He may have raced off with his tail wagging, but the dog's Breakfast he's serving up in Oz may mean Henry could be back with his tail between his legs.
WATSON'S FRIEND FACES DAY IN COURT
She quaffed champagne at a two-day party in Istanbul three years ago to mark the 50th birthday of her friend and colleague Eric Watson, but now Kerry Kennedy, the daughter of the late Senator Robert F. Kennedy, is due in court overnight after an arrest in New York for driving while impaired. Kennedy, the president of a human rights centre in her father's name, made no mention of the arrest on her Twitter page at the weekend. The ex-wife of New York Governor Andrew Cuomo and mother-of-three may have been under the influence of prescription drugs when she crashed with a tractor-trailer in Westchester on Friday. ABC News said she told police she had been taking Ambien that morning, but her family said no drugs were involved. The 52-year-old is an independent director of Cullen Agricultural Holding, a public company based in Georgia, of which Watson is chairman, chief executive, chief financial officer, treasurer and secretary, says the Wall St Journal's Market Watch.
DAME KIRI'S OIL UP FOR AUCTION
A painting owned by Dame Kiri Te Kanawa is auctioned next week at a Parnell art house and is expected to fetch a record price. The opera diva is selling an oil painting by the late Sir Peter Siddell, depicting a view of Mt Eden village.
The work has been in Dame Kiri's possession for more than 10 years and is expected to sell for about $165,000. Two years ago, the same auction house sold a Charles Goldie painting owned by Dame Kiri for a record price of $573,000.