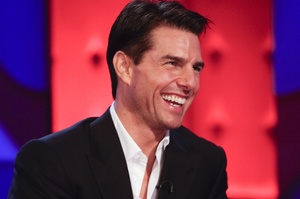 He may be the figurehead of a religious cult whose theology centres on a science-fiction writer's claim that an alien warlord called Xenu invaded Earth 75 million years ago. But Tom Cruise takes a dim view of weird and wacky stories written about him.
The actor has instructed lawyers to seek "hundreds of millions of dollars" in damages from the National Enquirer magazine over what he calls "disgusting lies" in its latest front-page story, which runs with the headline: "Inside Tom's HOUSE OF HORRORS!"
Cruise's lawyer, Bert Fields, told the tabloid's publisher, American Media, in a three-page letter that the star intended to go to war over "false and defamatory assertions" in the behind-the-scenes account of his life with Katie Holmes.
It comes two days after Cruise, 50, finalised terms of his divorce from his 33-year-old third wife.
It also marks his first attempt to rebut a wave of negative publicity spawned by the split, much of which has focused on the Church of Scientology's role in the life of the couple's 6-year-old daughter, Suri.
"Your cover announces, as a fact, that 'THE REAL TOM IS A MONSTER'," Fields told the Enquirer's senior legal counsel, Cameron Stracher. "Mr Cruise is certainly not a 'monster'. He is a caring father, a hardworking actor, and above all, an honest, decent man."
The letter went on to describe as "egregious lies" the allegation by the Enquirer that Cruise forced his daughter to spend five months sleeping in a "tiny, windowless room".
Rather, Fields insisted, "She slept in a nursery adjoining their bedroom. It has a window."
He also described as lies claims that Holmes lived a "tortured life" in a marriage that was a "living nightmare" before the former Dawson's Creek star abruptly filed for divorce last month. The National Enquirer has yet to respond to the letter.
- Independent