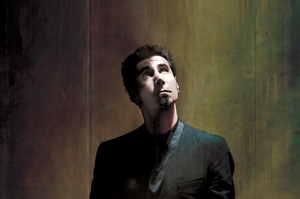 Serj Tankian likes to have a bit of a rant, and he hasn't held back on his third solo album.
At various points on Harakiri, the System of a Down front man hollers against materialism, agonises over environmental disasters, rages about corporate CEOs and repeatedly references animal suicide.
He even has time to take on Snooki and the rest of the Jersey Shore crew on the track Reality TV, with the line "I abhor the whore who calls herself reality TV" dripping in venom.
It sounds heavy going but Tankian has such a powerful voice - veering between soulful crooning, fast-paced rapping and barked yapping, at will - that it never gets boring. And he adds plenty of influences into the mix, like the Armenian grooves and Middle Eastern chants of standout track Ching Chime.
If anything, tracks like the jackhammer thump of Figure It Out and the smooth radio rock of Butterfly could use even more of Tankian's weird vocal tics, and as good as a song as Cornucopia is, it's calling out for a little of the intensity of System of a Down's warped trash-metal racket.
But Harakiri is Tankian's best solo album yet - and apparently just one of four he's recorded for release this year. As long as he's as fired up and rowdy as he is here, then that's no bad thing.
Stars: 3/5
Verdict: Armenian-American rock singer fires up for third solo outing.
Buy a copy of Harakiri here.
-TimeOut