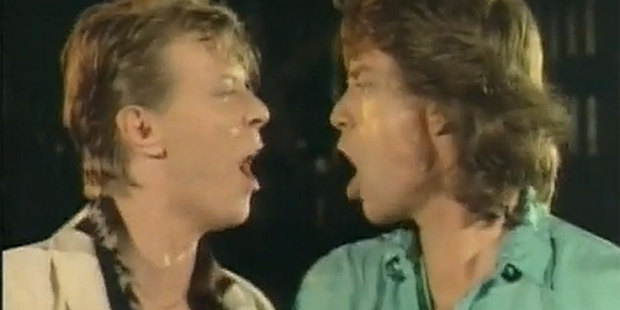 David Bowie and Mick Jagger were once lovers, according to a controversial new biography of the Rolling Stones frontman.
In Mick: The Wild Life and Mad Genius of Jagger, author Christopher Andersen alleges that Jagger had a long-term love affair with his fellow British musical genius, according to a report in Britain's Daily Mail.
The pair starred together in the camp video for their joint 1985 single Dancing in the Street.
Among other claims in the book about the now 68-year-old rocker's outrageous sexual antics are that he pursued actress Angelina Jolie while still married to supermodel Jerry Hall.
Andersen, who has penned bestselling biographies of Madonna, Michael Jackson, Jacqueline Kennedy and Princess Diana, among others, claims family and friends of Bowie and Jagger have confirmed details about sexual antics between the two that had long been rumoured.
The pair met in the early '70s, Andersen wrote, according to an extract printed in the New York Daily News, and became fascinated with one another, attending each other's concerts and sending gifts.
Their relationship quickly turned physical, he wrote.
"It was the glitter era, and everybody wanted to be part of the bisexual revolution," Andersen quotes singer Chuckie Starr as saying.
"(Bowie's wife) Angie even reportedly arrived back at her and Bowie's London home one day to find the two in bed together, Andersen wrote, the Daily Mail reported.
"Angie went upstairs to her bedroom, slowly pushed the door open, and there they were: Mick Jagger and David Bowie, naked in bed together, sleeping.
"Both men woke up with a start. 'Oh, hello,' said Bowie, clearly taken by surprise. 'How are you?'
"I'm fine," Angie replied. "Do you want some coffee?"
Angie reportedly "felt absolutely dead certain that they'd been screwing. It was so obvious, in fact, that I never even considered the possibility that they hadn't been screwing."
Bowie has previously been open about his and wife Angie's bisexual extra-marital love-life.
- AAP