James Milne, aka Lawrence, Arabia adds an orchestral manoeuvre to his latest album, reports Lydia Jenkin.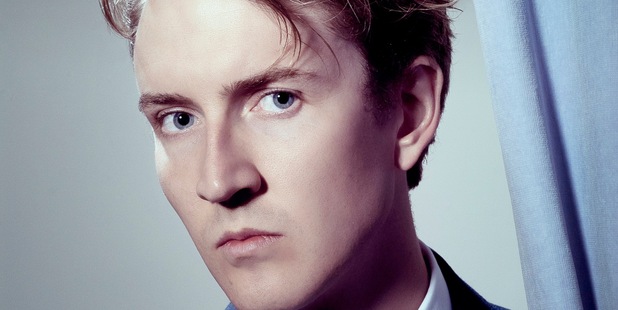 James Milne stands out in a crowd. Not only is he strikingly tall and blond, but even popping down to a Newton cafe in between rehearsals for his upcoming national tour, he cuts a dapper figure.
Not quite the pristine, stylised vision of his press photos, a little more rumpled and real, but still rather dashing.
Of course he also metaphorically stands out from the crowded local indie music scene as Lawrence Arabia (his stage name).
He's clearly ambitious, has a wry sense of humour, and having won both the 2009 Silver Scroll Award for scrumptious pop single Apple Pie Bed and the 2010 Taite Prize for his previous album Chant Darling, he could probably call himself New Zealand's most critically acclaimed musician.
Now on the verge of releasing his third solo album The Sparrow, he's setting himself a fresh challenge of touring the country with a 10-piece (or more) band, to replicate the lush orchestral style arrangements of the new songs.
The notion of performing his works as a large-scale show, in a grand setting with strings and horns has been in Milne's head since he first began recording the album.
"It just felt like, at least if you've got something really ambitious to aim for, and you can get really obsessed with that, and you don't have to sit wondering 'is it worth me being just another rock band, a bottom-feeder playing support shows, out plying my trade in pubs'. It became kind of essential to me."
It has been a long process to get to this point though; one which began while Milne was touring North America and Europe in 2010, and began feeling an almost overwhelming urge to write new songs, despite not knowing what they would be about.
"Touring can be stifling during the day, in that it's just basically sitting in a van, or going to a service station and browsing the aisles for jerky. It was a process I really craved as a reaction to touring I guess. Normally, if you cultivate a certain level of laziness, eventually songs just spring forth from that, but this was a different situation."
Milne had also hatched a plan to take over a house in south London, borrow some old recording gear, and spend some time laying down tracks with good friends Conan Mockasin and Elroy Finn, and, what with their busy schedules, he had something of a deadline looming. So when he returned to his then base in London, he hired a rehearsal space with a piano in Kings Cross.
"I was forcing myself into a nine to five situation almost, trying to finish the songs. There were a couple of times when songs sprung from writing assignments - we had a couple of dinner parties with Conan and Elroy, and I ended up asking what subjects should I write songs about. So they'd give me starting points.
"The song The Bisexual came from Elroy being obsessed with this idea of a 'snake in the grass', someone that's ruining your attempts to get it on with your object of desire. And another assignment became Lick Your Wounds, but it was totally different to start with - it was initially a song about someone winning a surfing championship."
The trio spent around five days turning out three or four songs a day, with Finn on drums, Mockasin on bass and Milne singing, as well as playing guitar, and piano - which has a greater prominence than on his previous albums.
"Writing on the piano was a novelty. If you get sick of the instrument you play, you get mental blanks when you pick it up, so sometimes it's nice to just pick up something different. And there was no mucking around with the tracks after those recordings were done, because it was all recorded live and everything was bleeding into each other, so there was no option to just pull out the piano or anything like that."
He could certainly add more layers though, and on returning to Auckland last year, he started roping in musicians to add the swaying romantic string parts, jaunty horns and woodwinds, and flourishes of percussion. It's a classic album. Dappled orchestral pop that mixes light and shadow, dark, grooving, and sly in its storytelling.
"Scott Walker and Serge Gainsbourg, I got quite obsessed with their records. I guess they're both quite European, and there's some sort of European-ness that I was after. I wasn't trying to emulate anything in particular I don't think, but I guess it's a case of when you become obsessed with things, they'll come back out to you again."
Milne's imaginative talents as a wordsmith that are so evident in his songs, have also been finding an outlet in a nutty sounding side project known as Uncle Bertie's Botanarium, which he's been writing music and plot ideas for.
It initially began as a film idea, but has lately been scaled back to a radio play. They have recorded the 45-minute pilot and hope to make a further six episodes.
It features a number of prominent creative types, and Jemaine Clement plays the main character, Joseph Banks.
"He's a delusional sociopath botanist, in a parallel universe and he's getting a crew together to travel to the other side of the world so he can destroy this plant, which is the source of all pleasure. I play his assistant, and I'm just constantly being abused by him."
It could be a while before the saga is finished though as Milne will be heading off to base himself in New York, and tour the US (with Liam and Elroy Finn added to his touring party) at the end of July, to coincide with The Sparrow's release in Australia, Europe and the US.
Who: Lawrence Arabia aka James Milne.
What: New album The Sparrow, out July 6.
Where and when: He will be touring New Zealand with a 10-piece band, and plays at the Auckland Town Hall on July 20.
- TimeOut