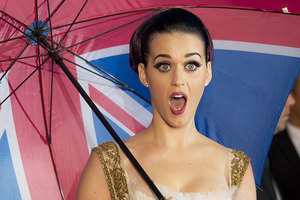 American pop sweetheart Katy Perry revealed a vulnerable side as she attended the European premiere of her new film.
Part Of Me, which premiered in London and hits New Zealand theatres on Thursday, is a 3D behind-the-scenes look at the ups and downs of the 27-year-old singer's life over the past year.
Having spent most of it doing a world tour, fans are treated to performances, backstage antics and the occasional breakdown.
Perry also lets the cameras follow her through the breakup of her marriage to British comedian Russell Brand.
Perry said she was inspired to write a new song for the film.
She said she was blown away by the blunt honesty of Alanis Morissette's seminal break-up album Jagged Little Pill as a teenager, but little did she know she would one day be exorcising her own relationship demons in song.
With her marriage break-up to comedian Russell Brand still raw, Perry was asked whether she wanted to write a number for the end credits of her movie.
Getting the chance to write Wide Awake was perfect timing for the singer/songwriter behind hits such as Teenage Dream and California Gurls.
"I was like, 'yes actually I know exactly what I want to write about and I kind of want to get that out of my system right now','' Perry says.
"I (couldn't) really hold it until the next record because that might take too long, so it was nice for me to be able to kind of like speak my piece with Wide Awake."
She says with songwriting, you really need to get it off your chest.
"You're congested, so it's better to get it out than to leave it in," she says.
Described by Rolling Stone as a "bittersweet break-up song", it features lyrics like "falling from cloud nine/crashing from the high/I'm letting go tonight".
Perry says she tries to be honest in her songwriting, something she has aspired to since hearing Morissette for the first time.
"I remember when I first heard You Oughta Know I was like, 'Holy crap I didn't know you could write this type of song...' that whole record Jagged Little Pill was really important to me, because she wrote from such an honest place and it was so unfiltered and raw," Perry says.
"You were like, 'Oh my gosh I totally connect to you. You are basically writing what I'm going through' and I kind of take that into mind when I'm writing songs."
Some might think Perry's song Part of Me was also written post-Brand, because of lyrics like, "so you can keep the diamond ring/It don't mean nothing anyway", but it's actually an old song she wrote back when she was making Teenage Dream.
"I can only put 12 songs on the record and those (on) Teenage Dream were the best 12 I thought that fit the complete record," she says.
"Then I had the opportunity to put a few other songs on like a special edition version (of Teenage Dream, called The Complete Confection) for the megafan."
With the Teenage Dream era coming to a close, Perry says one of her plans for the future is starting her own record label.
Having been dropped by record labels herself as a struggling singer in Los Angeles, Perry wants to be able to help others make a start.
"It's a bit premature to give too many details but really the reason why I want to do it is because I think that there are people out there that are like me, that need their vision realised too," she says.
"I have the baton and I have that opportunity and I want to pass that on to someone that has a great message and great songs."
- AP with AAP