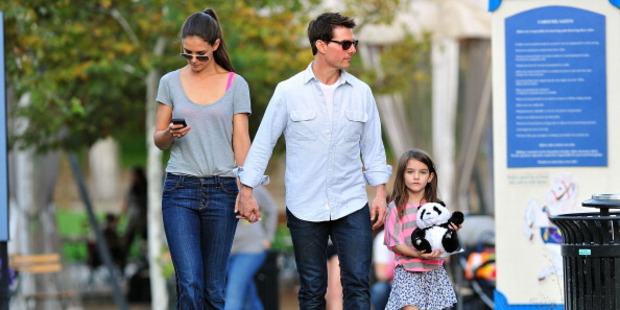 To many it always seemed more than a little weird, the whirlwind romance of Tom Cruise and Katie Holmes with its very public, very emphatic proclamations of love.
Now, after nearly six years of marriage, Holmes is divorcing Cruise. She filed citing "irreconcilable differences" and seeking sole legal custody and "primary residential custody" of 6-year-old Suri.
Internet sites have been running hot with theories. Holmes reportedly tried to file anonymously but her name got out.
There's already wild speculation, especially over Holmes' request for sole custody, with some commentators wondering about the part Cruise's belief in Scientology played.
Website TMZ said sources claimed Holmes filed primarily over Cruise's fierce ties to Scientology, fearing that Tom would drag Suri into the church.
"Our sources say ... Katie has never been fully committed to Scientology, even though she has had ties with the church. We're told the couple had been arguing over Suri, that she's now of the age where Scientology becomes a significant part of her life.
Sources familiar with the split tell us Katie is filing for sole legal custody ... specifically because she does not want Tom to control decisions relating to religion."
Meanwhile, Cruise's representative Amanda Lundberg said he was "deeply saddened and is concentrating on his three children".
Holmes' attorney, Jonathan Wolfe, made a similar plea: "This is a personal and private matter for Katie and her family. Katie's primary concern remains, as it always has been, her daughter's best interest."
The Tomkat duo's bond puzzled many, despite Cruise's famously euphoric couch-jumping on The Oprah Winfrey Show and Holmes' starry-eyed confession that she'd had a crush on the Top Gun star when she was a girl. Cruise turns 50 on Tuesday, Holmes is 33.
They'd kiss passionately for photographers on red carpets and were all-too happy to share the romantic details of their engagement: He popped the question at the Eiffel Tower in Paris early one morning in June 2005. And the November 2006 wedding was a fairy-tale, A-list extravaganza at a 15th-century Italian castle before a Scientology minister.
Critics claim it always felt like they were trying so hard to prove they were in love.
"I can't be cool. I can't be laidback," Cruise said during his Oprah appearance. "Something happened and I want to celebrate it."
Cruise has two children with Nicole Kidman. The actor was also previously married to Mimi Rogers. This was Holmes' first marriage.
Cruise showed up alone at recent premieres of the musical film Rock of Ages, in which he's earning strong reviews for his performance as an Axl Rose-style lead singer. Holmes also was absent this month when Cruise received the Friars Club Entertainment Icon Award. Kelly Lynch, editor of the pop-culture website Socialite Life, said she was surprised by the split because she figured that, no matter what, Cruise and Holmes would always try to maintain the meticulously crafted image that they were the perfect couple.
"Despite some of my reservations about the relationship, I thought they were happy to kind of swim along as man and wife, despite reports in every sort of magazine that they weren't getting along, that Katie is trapped in the marriage," Lynch said. "But I never truly believed that they were truly in love. It felt very arranged."
The couple, who have not been seen together since February, are estimated to be worth about US$275 million ($343m) combined.
Cruise is currently in Iceland filming sci-fi movie Oblivion, while Holmes has remained in New York.
- Agencies