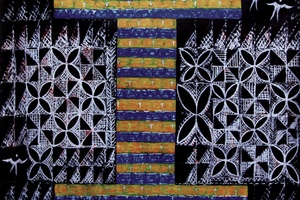 Le A'au Fou by Fatu Feu'u at Warwick Henderson.
A Samoan artist stays true to his origins with works that clearly illustrate Pacific themes.
Commitment is a quality much admired in an artist whether it be devotion to work, a style, or subject matter. Fatu Feu'u, one of the first artists from the Pacific to establish himself as a major painter in New Zealand, has always remained true to his Samoan origins in style and subject matter, although his materials have generally been conventional paint and canvas.
He has achieved a huge body of colourful work that is instantly recognisable because of the emphasis on energetic, rhythmic patterns derived from hibiscus flowers and the patterns on traditional cloth. There are also, hovering in the work, little birdlike forms always rising like the aspirations of the human spirit.
At the centre of the paintings in his exhibition called Lo Ta Nu'u (My Dear Country) at the Warwick Henderson Gallery, is a shape like an enlarged section of a girder. This form gives stability and strength to the work.
In some paintings it is made up of two contrasting patterns and colours, which suggest different tribes or forces at work.
An attractive variant shows this central form banded with yellow and blue, subtly modified by touches of green and red. These read as stylisations of islands with low land looking out to blue sea. They provide a strong sense of place in the paintings where the rest of the shapes stand out against a prevailing black background. Le A'au Fou is the outstanding example.
One painting, larger than the rest, dominates one wall and is the only one with a title in English, Diamond in the Sky. It is also the only work with a figure - a shadowy shape presides like the spirit heard moving in the tops of trees at night. It floats between two of the strong upright elements, accompanied by a whirling circular shape like the little windmills sometimes seen in cemeteries. The artist's past work has often included substantial texts in Samoan. Here the text is faded and blurred. In a show filled with experience and authority this powerful painting goes a little further than the rest of the work.
In a delightful exhibition at the Antoinette Godkin Gallery Sue Novell's Point of View shows a commitment to the qualities of paint. Her manner of painting is not quite resolved yet but her explorations of possibilities are beguiling.
The abstract work features forms made up of small squares as if part of a digital grid. The regular squares are combined in lively, highly irregular shapes, twisting and turning. These forms dance against washes of colour, counterpointed by interlacing lines. The effect is simultaneously romantic and lyrical with a hint of up-to-date technology.
Some of the works have "alter" as part of their title; these are not abstractions but have a different, more tightly controlled manner of painting. Alter-Nation, which has the appearance of a mosaic, is done in tight stitches of colour that the eye blends at a short distance. The scene shows the arcades of some ancient city swept by floods, where the water reflects the arches as it foams through them. The subject is intriguing; the painting is fascinating.
Alter-Native suggests forest and Alter-Piece is the confluence of two rivers yet, like Alter-Ego, it is painting as a landscape not of a landscape. The paint is all. The exhibition announces the arrival of a considerable lyric talent on the scene.
There could be no greater contrast between this and the hectic work of Locust Jones at Whitespace. His commitment is mostly to black and white, drama and polemic. The tone is set by a work in lettering in the window that announces BOYCOTT ISOLATE SABOTAGE. The drawings inside are all on paper set edge to edge as a frieze around the gallery. They are not all on one long sheet as in a previous show but separate images unified by the wild energy of the drawing and the aggressiveness of the attack.
They are done in ink, often squirted on the paper or splashed, rather than drawn in any conventional way. A typical work is a group of haunted faces behind a looping barrier of thick black line. Another has faces, perhaps self-portraits, surrounded by eyes, watching and being watched. Some list "dirty" words like Formula1, drone, revolution, strike break. One is a ferocious symbolic beetle. Others are wildly irregular patterns. One piece includes a crossword and is a reminder to the studious that, "do the Times crossword every morning", and that the Times and the Sun have the same venial proprietor.
So it goes on, to culminate in one work that appears written in blood on absorbent paper. Art changes nothing but it is fascinating to see a commitment to radical politics and feeling so powerfully expressed in the hope that it might.