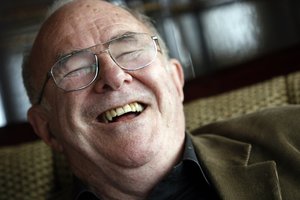 Your starter for 10: what connects Osama bin Laden, Zsa Zsa Gabor and Clive James?
The answer is that they've all been prematurely killed off by journalists.
Tributes began pouring in for James, the "brilliant, funny, twinkly eyed" broadcaster, (that from Julian Clary) after the Mirror announced he was "near the end".
The bad news, or rather the good, was that James is still very much alive. So much so that he promptly hit back by writing an article in yesterday's Sunday Telegraph, under the headline "I'm not dead yet!"
In it, he declared "I still have a few years left", and gave it with both barrels to the journalist who had killed him off, saying he'd like to "bite him in the upper thigh".
James had said he was "getting near the end" and described himself as "a man who is approaching his terminus". Just not to him. The quotes were lifted from the transcript of a Radio 4 show.
To say you are "reaching your terminus" is simply a statement of fact. It's true that James, who is suffering from leukaemia, is probably a few paces ahead of most. But the 72-year-old Australian still writes a weekly TV review and has been working with the BBC on his new programme. He has also just published a poetry collection, Nefertiti in the Flak Tower.
- Independent