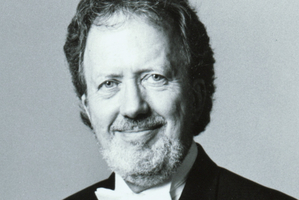 John Nelson is looking forward to conducting Auckland Philharmonia Orchestra next week in a concert cast around the ultimate romantic symphony, Berlioz's Symphonie Fantastique.
Berlioz's music has become Nelson's calling card, ever since he crossed the Atlantic for his first European assignment.
"It was baptism by immersion," he laughs. "Berlioz's Les Troyens with the Geneva Grand Theatre! It was a little scary for a kid's first appearance but it led to more performances at the big Berlioz Festival.
"I kept returning and France adopted me."
Nelson is best known for his decade at the helm of the Ensemble Orchestral de Paris.
"It was a small chamber-sized orchestra with a repertoire that I hadn't done much of, which was great. A lot of Mozart and Bach, as well as early stuff and contemporary French composers.
"No Bruckner," he adds laconically.
Nelson could only tackle Berlioz's more modest scores with his Paris musicians, conducting a fine 2004 recording of the song-cycle Nuits d'Ete with countertenor David Daniels.
Thursday's Symphonie Fantastique is like an old friend.
"My interpretation hasn't changed so much over the years," he starts, but gets distracted wondering whether the APO will come up with a genuine ophicleide, natural horns and giant bells.
"I'll just have to wait and see," he sighs.
"But with or without the instruments of Berlioz's day, this is music to surprise and shock. The story is shocking and so is the whole conception," he continues, although he admits that he once heard "a rather dull conductor" making it sound like Brahms.
What of Berlioz the man himself, I ask. Nelson pauses and assesses his hero as "a very different man from what many of my colleagues would think.
"Paris was so conservative back then and Berlioz had to fight at every turn to have his music heard. He was such a civilised man with a mind that was just so far ahead of everyone," Nelson reflects. "It would be such a thrill to be able to discuss all his music with him."
Thursday's concert opens with a "discussion" of Berlioz's music when Jack Body's Funeral March: Hector's Ghost takes on the fourth movement of Symphonie Fantastique.
"We hear Berlioz without anything else for about 12 bars and then the piece starts to disintegrate," Nelson warns me.
"The colours are so different," he adds. "There's a harp which Berlioz doesn't use in this movement and all kinds of percussion instruments not usually found in an orchestra, like a drum kit."
Mozart will be the mediator on the night between Body and Berlioz, when pianist Michael Endres is soloist in the composer's Coronation Concerto.
"I've done practically all the Mozart concertos and somehow this one has escaped me," Nelson exclaims.
This is a conductor who likes the give-and-take so integral to concertos. Robert Levin's name comes up, a pianist who "provides his own cadenzas and embellishments. It's very stimulating".
"It's so boring when you meet up with these traditionalists who play as if they were back in the 1930s," Nelson sighs. "Which is the case with most of them."
Conductor and pianist have yet to meet, but before fingers touch keys, there is the matter of the second movement's tempo to be resolved.
"The larghetto directive is not Mozart's," Nelson stipulates.
"It could be done in any number of ways but it strikes me as more Andante in rondo style. I'm curious as to what my pianist thinks."
* Auckland Philharmonia Orchestra, Auckland Town Hall, Thursday at 8pm