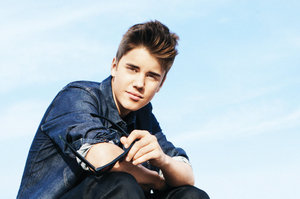 The master and his former protege release albums within a week of each other. But at this stage of their careers - 33-year-old Usher has been at it for almost 20 years and 18-year-old Bieber just four - the roles have changed somewhat.
It was Usher who fought Justin Timberlake in a bidding war to sign Bieber back when the Ontario kid was a YouTube phenomenon and soon to be the biggest male music star on the planet.
And these days, though Usher is still a giant of the R&B pop world, on seventh album Looking 4 Myself he struggles to match 2004's classic Confessions, which had the stealth and suave future soul of Yeah! on it.
So it's Bieber who's a clear winner here. On his third studio album in three years he has grown up and dispensed with the sugary teenybopper pop of tracks like Baby - well, almost because there are still hints of the innocent sweetness that screaming teenage girls the world over love most about him.
But Bieber, and his cast of songwriters and producers, have moved his sound on to a more mature level, from the mix of haunting electronics and acoustic guitar of first single Boyfriend, to the dubstep-infused (but thankfully not dominant) As Long As You Love Me where he aches rather than simpers.
On the dancefloor sing-along of Thought of You don't be surprised if you find yourself trying to match it with Bieber in all his falsetto glory (or is that still his real voice?), and Beauty and a Beat (featuring Nicki Minaj) bangs along, with outbursts of mangled bleeps and burps, and includes the cheeky Minaj line "Justin Bieber, you know I'm gonna hit 'em with the ether, buns out, weiner, but I gotta keep my eye out for Selena".
If anything the album lags midway through on Right Here, featuring Bieber mentor and fellow Canadian superstar Drake, and with the forlorn cheese and melodramatic message of Fall ("you can't fly unless you let yourself fall").
But it's a song like Die in Your Arms, with its snappy, bopping beats, and breezy catchiness, which might not attract too many new Beliebers, but is sure to maintain his already vast and devoted fan base.
Whereas Usher's album could just as easily be called Looking 4 Something New because on this overly long album - the deluxe edition is 18 tracks and 70 minutes in length - he tries to push the boundaries of pop but comes up with a mixed bag.
Looking 4 Myself was meant to be rooted in something Usher called "revolutionary pop", but it's not a good start to an uprising when the nagging synth riff throughout opener Can't Stop Won't Stop is a version of Billy Joel's Uptown Girl.
And you expect his trademark saucy, sex-on-the-brain lines, but many of them are lame, such as "got no drink in my hand but I'm wasted, getting drunk on the thought of you naked" on Scream.
He's at his best when he keeps it simple, like on the fun, minimal, and deadbeat collaboration Twisted with Pharrell Williams, or the lovely pulsing pop serenade of Show Me.
Overall, Bieber has a long way to go to compete with the soaring elegance of Usher's voice, but Looking 4 Myself is not as engaging and effortless as Believe.
Justin Bieber, Believe
Stars: 4/5
Verdict: No growing pains here.
Buy this album here.
Usher, Looking 4 Myself
Stars: 3/5
Verdict: ... and coming back a little empty-handed.
Buy this album here.
-TimeOut