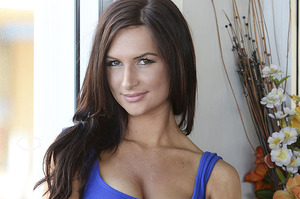 Online voters will decide what outfit reality star Rosanna Arkle will wear when she enters the boxing ring to take on glamour girl Jaime Ridge.
But whatever the fans chose it won't be much going by the outfits she has posted on Facebook.
Arkle has gained notoriety as one of the main characters in the reality television show The GC.
The former Whangarei Girls' High School student was last month named to go toe-to-toe with Ridge.
The female match-up generated widespread attention - and criticism - with its credibility hotly debated since it was announced the two young women would box in the undercard of the Godfather of Fight Nights between Shane Cameron and Monte Barrett on July 5.
Arkle said she would fight in a bikini and was talking tough as she eyed up her opponent at the official launch.
Now she is calling on fans to vote on what she should wear for the bout.
There are six options.
They include a skimpy leopard bikini - which was proving popular shortly after the poll opened yesterday.
Leading the voting was another outfit modelled by Arkle, which is a bright blue sports bra and black hotpants, finished off with blue and white boxing shoes.
At the official launch Arkle stated: "I just did this for the challenge. I think I'll knock her out and then get some KFC."
The Godfather of all Fight Nights will see New Zealand's own Shane "Mountain Warrior" Cameron come face to face with the NO 6 ranked heavyweight in the world, Monte "Two Gunz" Barrett.
Up for grabs are the WBO Asia Pacific and WBO Oriental Heavyweight titles that Barrett won from David Tua in 2011.
The undercard features big names such as former NRL star turned credible boxer Solomon Haumono and New Zealand's most exciting new heavyweight prospect Joseph Parker in his professional debut.
The GC tracks the everyday lives of a group of Mozzies - local slang for Maori Australians - living on the Gold Coast, and the last episode screens this week in New Zealand.
For more articles from this region, go to Northern Advocate