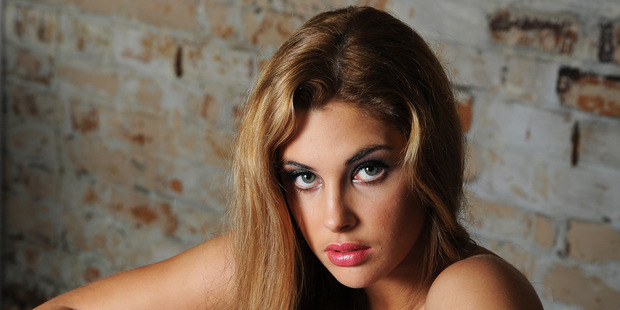 Celebrity sprog Jaime Ridge is determined not to embarrass herself - and her famous sporting name - in an upcoming boxing bout with Rosanna Arkle, cast member of The GC.
Ridge's trainer, former Warrior-turned-boxer Monty Betham, told The Diary Matthew Ridge's teenage daughter is putting in the hours. "She is training really hard six days a week. I have had plenty of tears out of her, but she never gives up.
"In sparring, Jaime has had a blood nose and a black eye, but she keeps coming back," Betham said.
Arkle - no stranger to lip-gloss herself - is said to be training three times a day. The punishing regime includes swimsuit shopping.
Arkle has declared she will fight in a bikini. The Whangarei-raised Arkle has bought seven string bikinis and agreed to pose in them for a radio station's website, and putting them to a vote on which to wear on the night.
Ridge and Arkle make up one of the undercard bouts at the KFC Godfather of Fight Nights on July 5, with Monte Barrett versus Shane Cameron the main event. Cameron is in London sparring with heavyweight boxer David Haye in preparation.
Boxing supremo and Herald columnist Sir Bob Jones will be there to watch his protege Joseph Parker make his professional debut on the undercard.
Sir Peter Leitch, Marc Ellis and a clutch of cast members from The GC will be present, too. The Diary understands a seat has also been reserved ringside for Kim Dotcom.
The most-anticipated undercard fight is between Black Caps batsman Jesse Ryder and outspoken Radio Sport host Mark Watson. The slanging match has already started.
EATING HIS WORDS
Radio Sport host Mark Watson ranted on air last week about the All Whites. "We play a Club Med social team called New Caledonia and we get beaten 2-nil! Should there be an inquiry into this? We played Fiji, we beat them 1-nil! This is Fiji - a holiday resort!
"We then played Papua New Guinea. There are parts of Papua New Guinea where they still eat people! There's still cannibalism in Papua New Guinea!"
"No there's not," said Radio NZ's Colin Peacock on his Media Watch programme on Sunday. "There's no evidence of cannibalism whatsoever."
However, it was Hayley Holt, a co-host on The Crowd Goes Wild and former champion snowboarder, who demonstrated her views on Watson most succinctly.
Holt, who squared off against surfer Paige Hareb in last year's Fight for Life, was criticised by Watson last week for her beauty.
On The Crowd Goes Wild, Holt said: "When I fought, he had a dig at me for being a bimbo and for getting a job in sports journalism.
"So if I trade off in my looks, do you trade off being an a******?" she asked Watson on the show. No, he said.
CRUSHER PLAYS COVERGIRL
The 80th birthday party for the New Zealand Woman's Weekly at The Wharf on Friday night was a celebrity-filled affair, but it was Cabinet minister Judith Collins who proved one of the party's most popular guests. Many wanted their photo taken with her.
Close Up host Mark Sainsbury persuaded her to play covergirl and imitate Lorraine Downes' pose which adorns the mag's cover this week. Crusher tossed her locks back and happily played along.
Opposition leader David Shearer was playing it more suave. One female suggested Shearer "looked like a sex-god rock star". Admittedly, he was dressed in head-to-toe black with a few chest hairs visible.
Ali Williams' wife, Casey Green, channelled sexy, too. So did Central Auckland MP Nikki Kaye, who wore a sultry silk shift in Labour red. Insiders suggest it's the colour of love, hinting Kaye may have a new man. A sailing enthusiast, tittle-tattlers suggest.
TVNZ's Petra Bagust arrived unfashionably late in the middle of Downes' speech and sported the same jacket as Carol Hirschfeld. Former TV3 star Hirschfeld was snapped for The Diary with MasterChef presenter Simon Gault. But afterwards he quietly asked who she was, proving fame can be fickle. Hirschfeld's celebrity power has somewhat faded these days.
Singer and one-time reality TV show contestant Jessie Gurunathan raised brows with her plunging gown and unsightly Ugg boots. She refused to be snapped, but Lucy Lawless - or "Unlawful" as she's been tagged following her Greenpeace protest conviction - didn't cause a fuss. She sang rock'n'roll cover songs and the crowd danced like guests at a wedding - badly.
Shortland Street actor Michael Galvin joked with a TV publicist about a past unconsummated relationship they'd had some years ago in Wellington while at acting school. And Suzanne Paul got sentimental as she looked around the room longingly.
"This is only the second time I've been back here," she told The Diary, "and it feels so weird." Paul's Maori village venture, Rawaka, used to occupy the building but closed in 2004.
PEACH OF A PLAY
Sir James Wallace opened his Epsom home, Rannoch, on Sunday night for the announcement of Jesse Peach's adaptation of the Arthur Miller play Death of a Salesman. Sam Hayes, George Henare and Anna Jullienne were among the guests who took a peek around Sir James' art collection and heard Roger Hall speak about the trials and tribulations of playwriting.