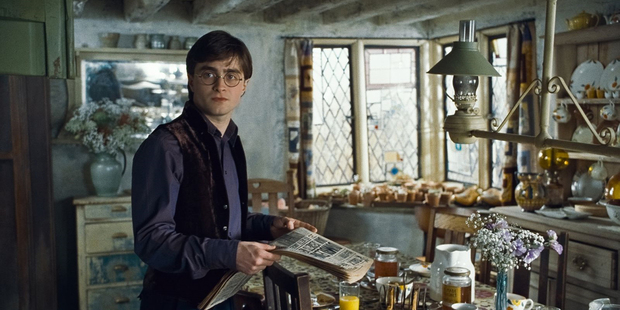 He is a hero to millions of children the world over; fighting against the forces of evil in one of the most successful book series ever written.
So fans of Harry Potter might throw down their plastic wands in disgust when a new graphic novel is published this week parodying the "boy who lived" as the Antichrist.
Century 2009, written by the celebrated graphic novelist Alan Moore, is poised to cause controversy over its parody of JK Rowling's best-loved creation. Legions of Potter fans are also likely to be incensed by the book's suggestion that Potter has been sent up as the Devil.
Though the words "Harry Potter" are never mentioned, the allusions are unmistakable. One section features a magical train hidden between platforms at King's Cross station which leads to a magical school. The Antichrist character has a hidden scar and a mentor named Riddle. (Lord Voldemort, born Tom Riddle, is Harry Potter's arch enemy in the Potter series.) Characters resembling Ron Weasley and Hermione Granger also appear.
Moore is Britain's most famous graphic novelist, and his stories such as the Watchmen, V for Vendetta and From Hell have been turned into Hollywood films.
The story threads history and fiction together, taking readers through different periods in British history - 1910, 1969 and finally 2009.
In the final instalment, the three main characters, Mina Murray, Allan Quatermain and Orlando, will try to face down the Antichrist.
Released on Thursday in the UK and US, Century 2009, the final part of the trilogy, has been heavily embargoed to avoid being leaked on to the internet because of its cult status among comic-book fans and because of fears of reprisals from Rowling's publishers.
Over the years, Rowling's phenomenally successful franchise has been the subject of numerous legal proceedings over copyright infringements. In 2007, she sued a US publishing firm to block the publication of a 400-page book version of the Harry Potter Lexicon, an online reference guide to her work.
The judge found in favour of Rowling and the book was released in a much shorter, unauthorised version a year later.
Comics journalist and academic Laura Sneddon says Moore is depicting Potter as the Antichrist to make a comment on the degradation of the publishing industry.
"As the publishing industry takes fewer risks, originality is visibly dwindling, while major franchises and celebrity biographies are relentlessly pushed upon us," says Sneddon.
"Moore is always keen to point out that the League books are satire and that he has respect for all characters that he uses and hints at, expressing hope that people will look beyond the Harry Potter connection to appreciate the whole." Independent