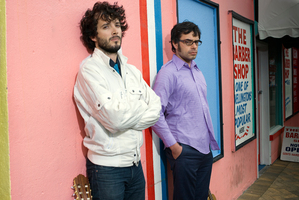 The last time Flight of the Conchords played in Auckland it was a comedy festival stint at the Classic. Back then, they were an up and coming act.
And they up and went - their live show made the leap to a BBC radio series, two seasons of the HBO sitcom, Grammy-winning big-selling albums with all of the above making them a comedy stadium act on both sides of the Atlantic.

Now here they were, Bret McKenzie (ONZOM) and Jemaine Clement (er, MIB3), eight years on playing a few doors down from that comedy club. But at the sold-out Auckland Town Hall, more people queued at a merchandise stand - choosing between a dozen T-shirt options, T-towels and Y-fronts but sadly, no business socks - than would have seen them last time.

And this gig was only the start, the third show of a homecoming tour which will see the Conchords playing to 40,000-plus fans and includes two nights at Vector Arena.

Yes, everything is bigger about Flight of the Conchords now, even the stage came crowded with keyboards and a drumkit rather than the two-stool/two-guitar/two-spotlight minimal set-up of old.

And while grander, much of it was still familiar. Of the 20 songs in the set, a fair few remain which would have bounced off the walls of the Classic.

But for all its bigness, which sound-wise swamped the occasional lyric and banter a little, and for all the high mileage on some of the material, the triumphant return of FOTC was, well, triumphant.

After a engagingly hilarious warm up set by sitcom co-star Arj Barker, Clement and McKenzie emerged in their robot guises for a quick romp through Too Many Dicks on the Dancefloor and, of course, Robots ("binary solo!'').


So began a 90 minute performance which offered plenty of spontaneity - like a risky John Banks reference and Jemaine's subsequent apology for it in The Most Beautiful Girl (in the Room) - among all the as-seen-on-tv hits.

Yes, one or two bozos in the audience thought it was ok to heckle the same dumb things they probably once did at the tv screen which gave the pair some uneasy moments between songs.
But largely, FOTC's first Auckland gig in eight years was well worth the wait and felt like a celebration with the audience was there to bask in the glow of their international success.

Sadly McKenzie's Oscar winning Man or a Muppet? was left on the mantelpiece but there was a smattering of new material new, like a pervy new song possibly called Sex Tips which came on sounding like a heavily viagra-ed Franz Ferdinand.

And some older material which hasn't much appeared on record or screen sounded fresh and understatedly funny.

Like the shaggy dog story of mistaken identity Jenny, or the charming Bus Driver's Song, a piece of Kiwi smalltown whimsy which owes something to the Front Lawn, Don McGlashan's folk-comedy duo of the 80s.
Bringing on cellist/keyboardist/drummer Nigel Collins for much of the set, the enhanced duo veered from folky to funky to freaky, especially when it got to the glam wham-bam of Bowie (their grand brilliant pastiche of the Thin White Duke's best bits) and Demon Woman (cue a couple of genre-appropriate costume changes) at the end of the main set.

With an encore offering up the vocal tag-team boy band stylings of We're Both in Love With a Sexy Lady and the pneumatic Sugalumps with Barker returning as guest MC, they ended the night as rudely as they started, that final testicle-referenced song making a genital-themed bookend to the show's phallic opener.

Yes a bit vulgar, but between was a performance that lived up to every expectation.

It's good to have them back.
Who: Flight of the Conchords
Where: Auckland Town Hall
When: Saturday, June 16
* What did you think of the show? Post your comments below.