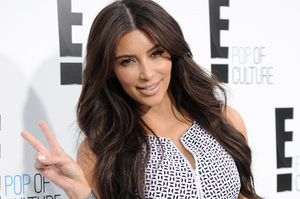 Outspoken rapper and hip-hop star Kanye West might be partial to the odd UPPERCASE rant on Twitter, but would he really post a naked picture of girlfriend Kim Kardashian online?
The net was abuzz yesterday after a steamy face-obscuring snap of a woman with a passing resemblance to Kardashian, sitting naked at a table eating a banana (as you do), surfaced on Twitter.
Online chatter suggested the saucy snap had originated from West's Twitter account, but swiftly deleted it after Kardashian became a trending topic on Twitter.
The removal of the snap sparked rumours he'd 'unintentionally' posted the image.
Other reports suggested the woman in the picture was not Kardashian, but porn star Amia Miley.
Taking to Twitter, Miley wrote: "Apparently a naked photo of me eating is going viral...as Kim Kardashian...Im confused.
"im not going 2 argue about whether that pic is me or not...want proof? Look at the back dimple piercings. kim k doesn't have those...oh, and my right wrist piercing shows in the pic too...the end."
She concluded: "I can't believe how even after the proof has been presented, there's still a few who are stuck on stupid..congrats, you're special."
According to TMZ, Miley tweeted the pic in 2011.
West has since issued a statement denying that he tweeted the snap in question.
"In regards to this 'story' that Kanye posted and then took down intimate pictures on his Twitter account: TOTALLY FALSE. Laughably so," his rep told E! News.
"This phantom tweet never occurred on his account," the rep continued.
"This is obviously the desperate, sad act of someone seeking to gain media exposure by exploiting Kanye's notoriety. Kanye doesn't even know this person, has never seen this picture, and hasn't been on his Twitter account for a day.
"It's a shame that in our media culture, the rampant spread of this kind of irresponsible 'reporting' occurs with such regularity and with such impunity."
And there you have it... the naked truth.
- Blogger Bites Back