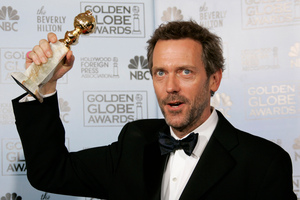 Hugh Laurie is reportedly in negotiations to join the cast of the upcoming RoboCop remake.
I'll buy that for a dollar!
The British actor - whose hugely popular TV show House recently drew to a close after eight seasons - is tipped to play the main villain in the new version of Paul Verhoeven's 1987 sci-fi action classic, according to The Hollywood Reporter.
Assuming he signs on the dotted line, Laurie, 53, will portray the badass CEO of Omnicorp, the nefarious company that creates the titular crime-fighter hero.
A 'source' told Britain's Mirror: "It's a big jump from his other roles but Hugh can do it.
"He's a massive star in America now and we're confident he will sign up and be a big hit on the big screen."
MGM and Sony's remake, directed by José Padilha (Elite Squad), appears to be assembling a robust cast.
Joel Kinnaman, star of US crime series The Killing is taking on the title role of Alex Murphy, a Detroit cop gunned down while on duty, and later transformed into a cyborg lawman.
Fellow Brit Gary Oldman recently joined the project to co-star as a scientist named Norton who helps create Robo.
Samuel L. Jackson has also signed on to play Pat Novak, a powerful and charismatic media mogul.
Abbie Cornish, who last appeared in Madonna's feature-length directorial effort W.E., looks set to portray Murphy's wife, according to a recent Deadline report.
Gran Torino scribe Nick Schenk was originally commissioned to work on the screenplay. Josh Zetumer wrote the most recent draft of the script, reports Empire Online.
Padilha, who replaced Black Swan director Darren Aronofsky on the long-gestating project, explained his plans for the movie last year.
"RoboCop the first movie was fantastic," he told Coming Soon.
"But even if there was no movie, the concept of RoboCop is brilliant, first because it lends itself to a lot of social criticism, but also because it poses a question, 'When do you lose your humanity?'
"I have my take on it. And I can tell you this: In the first RoboCop when Alex Murphy is shot, gunned down, then you see some hospitals and stuff and then you cut to him as RoboCop. My movie is between those two cuts.
"How do you make RoboCop? How do you slowly bring a guy to be a robot? How do you actually take humanity out of someone and how do you programme a brain, so to speak, and how does that affect an individual?"
Kinnaman has also offered his take on the project, while dishing that he was once opposed to remakes.
"I used to be like 'Why are we doing a remake? What are remakes being done for?' But then, we do that all the time in the theater," he told Collider.com.
"If we weren't doing remakes, nobody would know who Shakespeare was. I'm not saying that RoboCop is Shakespeare, but it's a way to ... we're retelling," he explained. "That's what we do as human beings. We retell our favourite stories."
He continued: "It doesn't have to be negative to creativity. It can be completely opposite. That's how you can break new ground by rethinking something that's already been done.
"José has a completely different take on this than Verhoeven had, and with all respect, everybody that's involved in this movie loved the original and we have a lot of respect for it. We're going to have a lot of throwbacks and there's going to be a lot of fun stuff for the fans of the first movie. It's a new story within the old one."
Filming is due to kick off in Toronto this September, and the movie is currently slated for release on 9 August 2013.
Watch a trailer for the original RoboCop movie below:
- Blogger Bites Back