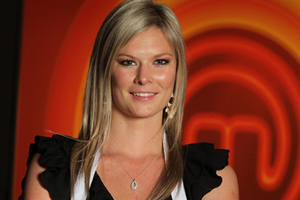 There were some pretty big questions on last night's MasterChef final. For Josh, the big question was the Italian meringue, for guest judge Rick Stein it was whether the laksa matched the best of Penang street food, for both contestants it was "what would Ray McVinnie do?" in the taste test.
It was her nerves of steel that sealed it for Chelsea Winter over Ana Schwarz. Both won two of the final's four challenges, but Winter finished five points ahead.
Two challenges required an affinity with Asian food (good for Schwarz) and two required crack restaurant-quality presentation (Winter's edge, by a nose).
The opening taste test was alarming. When two cooks' idea of ingredients in an Indian curry includes beef and curry powder, it's a fair bet they still have a way to go.
Early win for Schwarz, but by series three we all know that that is not what MasterChef is all about.
Challenge two, an invention test with a "beast" (venison) pushed the chefs to work with an unfamiliar ingredient. Winter's carpaccio with pickled vegetables had the judges glowing with superlatives.
It could have been game over for Schwarz but luckily for her next up was a Malaysian laksa. Both women turned into jelly-legged 12-year-olds at a One Direction concert at the sight of guest judge Rick Stein, but Schwarz managed to claw back points.
The MasterChef sadists must have had fun coming up with the final challenge.
The tortuous trifle would have sent any chef to the sherry bottle, with 10 complicated components, art-directed assembly and only three hours to get it done.
Schwarz never recovered from a couple of flustered mistakes and the challenge was Winter's to take home. Another swag of goodies, another cookbook, but this year a winner who's keen to learn and run a restaurant. An actual chef, then.
* Did the right person win? Post your comments below.